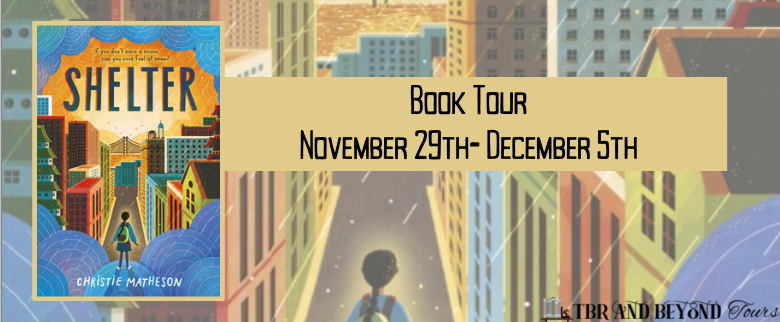 Welcome to my stop on the blog tour for Shelter by Christie Matheson.  This tour is being hosted by TBR and Beyond Tours.
Shelter by Christie Matheson
Genre: Middle Grade Contemporary
Publishing Date: October 12, 2021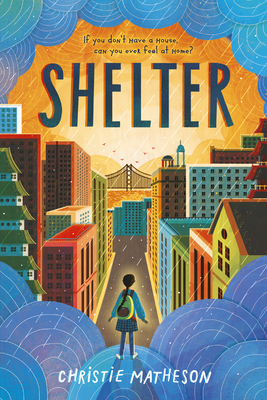 Perfect for fans of One for the Murphys and Paper Things, this heart-wrenching middle grade debut considers homelessness from one girl's perspective and explores deep truths about the resounding impact of empathy.
Fifth grade can be tough for anyone. There are cliques and mean kids and homework and surprise math tests. But after tragedy strikes her family, almost-eleven-year-old Maya has a painful secret that makes many days feel nearly impossible.
And today might be Maya's toughest yet. Her family is on edge, she needs to travel alone across the city, a bully is out to get her, and Maya has to face this winter's biggest rainstorm without a coat or an umbrella.
But even on the rainiest days, there's hope that the sun will come out soon.
Emotional and compassionate, Shelter looks at homelessness through one girl's eyes and explores the power of empathy, friendship, and love.
Book Links:
Goodreads: https://www.goodreads.com/book/show/56904357-shelter 
Amazon: https://www.amazon.com/gp/product/0593376382?tag=randohouseinc7913-20 
Barnes and Noble: https://www.barnesandnoble.com/w/shelter-christie-matheson/1138717921?ean=9780593376386 
IndieBound: https://www.indiebound.org/book/9780593376386?aff=penguinrandom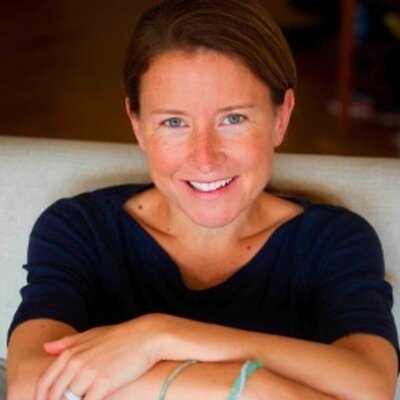 Christie Matheson is the author and illustrator of many picture books, including Tap the Magic Tree, Touch the Brightest Star, and Bird Watch. Shelter is her first novel. She lives in San Francisco with her family. Find her on Instagram at @christiematheson.
Author Links:
Instagram: https://www.instagram.com/christiematheson/?hl=en 
Goodreads: https://www.goodreads.com/author/show/16305094.Christie_Matheson 
Follow The Tour:
November 29th
Confessions of a YA Reader – Promotional Post
Rajiv's Reviews – Review
November 30th
Stuck in Fiction – Promotional Post
Paiges of book – Review
December 1st
Kait Plus Books – Promotional Post & Mood Board
A Bronx Latina Reads – Review
December 2nd
Sheaf & Ink – Review
PopTheButterfly Reads – Review
December 3rd
The Reader's Game – Top 5 Reasons to Read Shelter, Favorite Quotes & Mood Board
The Momma Spot – Review
December 4th
The Book Dutchesses – Promotional Post
Nine Bookish Lives – Promotional Post
December 5th
The Nutty Bookworm Reads Alot – Review
Balancing Books and Beauties – Journal Spread
Instagram:
November 29th
tbrandbeyond – Promotional Post
rajivsreviews -Blogger's Choice
November 30th
feliciareads11 – Blogger's Choice
theaterbookgirl – Blogger's Choice
December 1st
booksonthecouch – Review
abronxlatinareads – Blogger's Choice
December 2nd
jypsylynn – Review
sheafandink – Blogger's Choice
popthebutterfly – Blogger's Choice
December 3rd
writingrosereads – Top 5 Reasons to Read Shelter
BookDragonsTBR – Blogger's Choice
December 4th
mellasmusings – Review & Favorite
thebookdutchesses – Blogger's Choice
ninebookishlives – Blogger's Choice
December 5th
fangirlpixiebooks – Promotional Post
balancing_books_and_beauties – Blogger's Choice