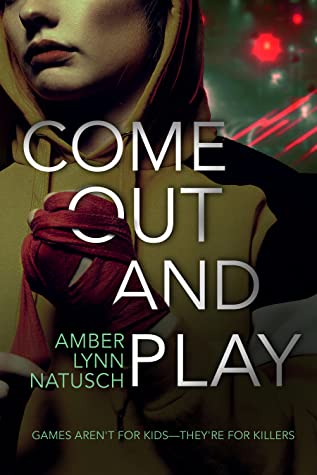 Come Out and Play by Amber Lyann Natusch
GAMES AREN'T FOR KIDS—THEY'RE FOR KILLERS.
For Kylene Danners, there's only one fate worse than death: entering a beauty pageant. So when her friends (and a shot at a twenty-thousand dollar college scholarship) push her into one, she assumes she's found hell on earth—until girls start dropping out under suspicious circumstances, and Ky finds herself smack dab in the middle of another dangerous mystery—a twisted web of duplicity and deceit far more deadly than she expected.
COME OUT AND PLAY, the third young adult mystery novel in the Hometown Antihero series by Amber Lynn Natusch.
This is a book three, so there could be spoilers from the first two books below.
I am so glad that Amber was able to give us another book in this series. I first have to say that I want Kylene and Agent Dawson together. I know it's probably not the healthiest, but I just like them so much more than Ky and AJ. Now that I have that out, I can talk a little about the book. But not too much because it's definitely a mystery. Ky is still trying to figure out who framed her dad and to get him out of prison. She's having some major anxiety/ptsd from everything that's happened to her. She and AJ are getting closer again. Gramps is working a ton and it worries Ky. She's just super stressed and money is one issue. There is a local pageant going on. The big prize for the state winner is a $20,000 scholarship. Ky hates it, but her friends convinced her to join it. That would be one less thing to worry about. But girls start getting blackmailed to drop out. Things get bad and there are twists that bring it back to Ky. She is determined to help her dad, but Ky is finding that it might just get her killed.
I gave this 5 stars. Thank you to the author, Amber, for my early copy for review. I cannot wait for the next book.
Have you started this series yet?  Have you read Come Out and Play yet?