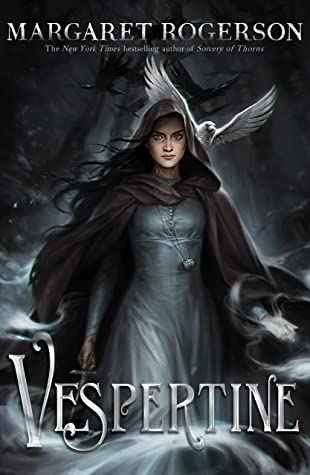 Vespertine by Margaret Rogerson
The dead of Loraille do not rest.
Artemisia is training to be a Gray Sister, a nun who cleanses the bodies of the deceased so that their souls can pass on; otherwise, they will rise as spirits with a ravenous hunger for the living. She would rather deal with the dead than the living, who trade whispers about her scarred hands and troubled past.
When her convent is attacked by possessed soldiers, Artemisia defends it by awakening an ancient spirit bound to a saint's relic. It is a revenant, a malevolent being that threatens to possess her the moment she drops her guard. Wielding its extraordinary power almost consumes her—but death has come to Loraille, and only a vespertine, a priestess trained to wield a high relic, has any chance of stopping it. With all knowledge of vespertines lost to time, Artemisia turns to the last remaining expert for help: the revenant itself.
As she unravels a sinister mystery of saints, secrets, and dark magic, her bond with the revenant grows. And when a hidden evil begins to surface, she discovers that facing this enemy might require her to betray everything she has been taught to believe—if the revenant doesn't betray her first.
I enjoyed this one, but my review will be short so there are no spoilers.
It did take me awhile to really get into this even though the pacing was pretty fast right away. I think that it might have been my mood for than anything. It's that mood reader forcing herself to read something thing. I knew I needed to squeeze in this group read, but I wasn't in a fantasy mood. But I did enjoy it. Artemisia was easy to like. It probably sounds weird, but I adored the revenant. It made me laugh multiple times while reading which I didn't expect. I also really liked Marguerite and hope there is more of her in the next book. Since this has a book one next to it on Goodreads, I assume there will be a sequel. I honestly found myself confused a few times reading this, but I think I tend to space out when reading religious type things. But I thought the story was well written and I will definitely pick up book two when it comes out.
I gave this book 4 stars.
Warnings for blood, fire, death, religion.
Have you read this?  Is it on your TBR?