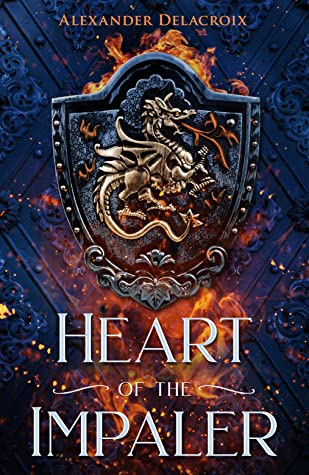 Heart of the Impaler by Alexander Delacroix
In this dark, historical YA debut, two young men—one scarred and dutiful, the other wickedly magnetic—fall for the same young woman. But is it safe for her to love either of them back?
Ilona Csáki has no desire to marry the voivode's eldest son, but love and marriage are the least of her worries.
The royal family's enemies have already tried to put an arrow through her back—and if anyone discovers her blossoming feelings for her betrothed's cousin Andrei, and younger brother, Vlad, she may just wish they'd succeeded.
Beneath the shadow of impending war, the only battle that will be deadlier than the one for Ilona's life will be the one for her heart.
Alexander Delacroix's darkly romantic debut is perfect for fans of Kiersten White's And I Darken and Emily A. Duncan's Wicked Saints.
Expected publication: December 7th 2021 by Swoon Reads
Heart of the Impaler is more of a Dracula love story vs a book with a lot of death and action. There was a bit of those, but not a lot. It's mostly a love triangle and seeing Vlad slowly become the person we know he is as he gets older. In this book, Vlad is a teenager and he's not the heir. He has an older brother, Mircea, that is the heir and a pretty horrible person. Mircea is definitely abusive and probably plays a big role in why Vlad becomes horrible.
You're nothing, Vlad. A mere speck. A name that history will forget. The sooner you learn that lesson and accept your insignificant place in Wallachia's royal hierarchy, the happier you'll be.
Vlad's father is also abusive and there are rumors that he has another child, also named Vlad. Vlad does have one ally. His cousin, Andrei, is Vlad's best friend and they get along well. Or they did before Ilona happened. Ilona's family is new and her father surprised her by announcing her engagement to Mircea. Vlad finds that he's very attracted to her and almost becomes obsessed. Andrei also ends up with feelings for her, but that's after talking to her often. Vlad is confident that he can remove Mircea from the picture to get the girl and power, but he underestimated Andrei and his kindness.
I did actually enjoy the love triangle for this one and there were parts of the book that were exciting. But I wanted more and found myself not caring at times. Overall, I did like this one though.
I gave this book 3 1/2 stars rounded up to 4 on Goodreads. Thank you to the publisher and Netgalley for my earc.
Warnings for whipping/beatings/abuse, attacks, killing and death.
Have you read this yet?  Is it on your TBR?