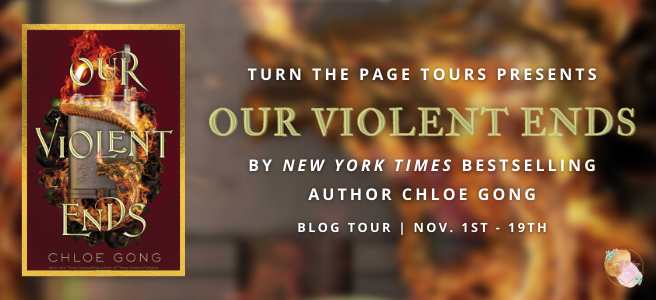 Welcome to my stop on the blog tour for Our Violent Ends by Chloe Gong.  This tour is being hosted by Turn the Page Tours.
TITLE: Our Violent Ends (These Violent Delights, #2)
AUTHOR: Chloe Gong
PUBLISHER: Margaret K. McElderry Books
RELEASE DATE: November 16th, 2021
GENRES: YOUNG ADULT FICTION—Historical, Fantasy, Romance
BUY LINK: https://bookshop.org/a/11727/9781534457720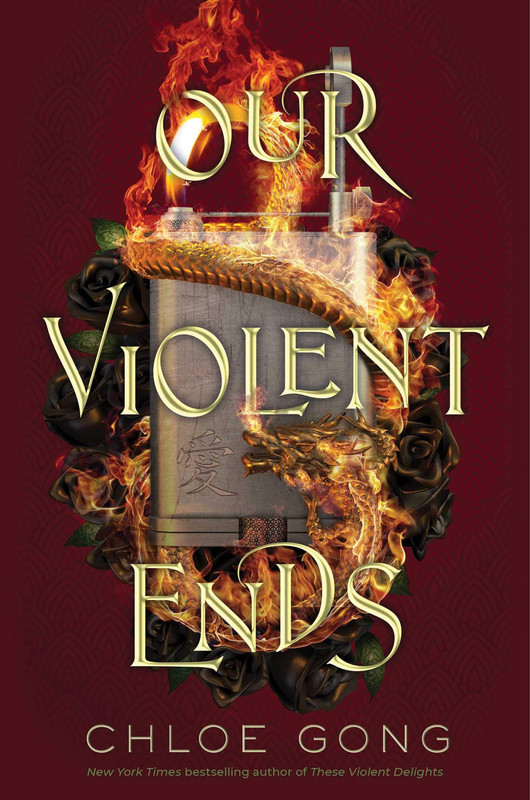 Shanghai is under siege in this captivating and searingly romantic sequel to These Violent Delights, which New York Times bestselling author Natasha Ngan calls "deliciously dark."
The year is 1927, and Shanghai teeters on the edge of revolution.
After sacrificing her relationship with Roma to protect him from the blood feud, Juliette has been a girl on the warpath. One wrong move, and her cousin will step in to usurp her place as the Scarlet Gang's heir. The only way to save the boy she loves from the wrath of the Scarlets is to have him want her dead for murdering his best friend in cold blood. If Juliette were actually guilty of the crime Roma believes she committed, his rejection might sting less.
Roma is still reeling from Marshall's death, and his cousin Benedikt will barely speak to him. Roma knows it's his fault for letting the ruthless Juliette back into his life, and he's determined to set things right—even if that means killing the girl he hates and loves with equal measure.
Then a new monstrous danger emerges in the city, and though secrets keep them apart, Juliette must secure Roma's cooperation if they are to end this threat once and for all. Shanghai is already at a boiling point: The Nationalists are marching in, whispers of civil war brew louder every day, and gangster rule faces complete annihilation. Roma and Juliette must put aside their differences to combat monsters and politics, but they aren't prepared for the biggest threat of all: protecting their hearts from each other.
I really loved this duology!
This is a book two, so there will be spoilers from book one below. Please do not read if you haven't read These Violent Delights yet.
Things are still bad as the book starts. Roma and Juliette haven't been together. Benedict was morning Marshall's death while Juliette was hiding him in a safe house. The violence and unrest just kept growing in the city. There was a spy in the Cai household. They thought that the monster and bugs was at least taken care of, but it was only going to get worse. Tyler still wanted to run the Scarletts and Dimitri was still hoping to take over the White Flowers. There were enemies to Roma and Juliette in their own homes. But neither of them gave up hope that things could change. Roma and Juliette will need to work together again, even when Roma hates and loves Juliette. They need to find a way to save the few good people left that they love and end the madness for good. Even if it means dying for their cause.
The pacing was great and I loved everything about this story. It's just as dark and gory and I kept waiting for everyone I loved to die. It is a tragedy. But I still kept rooting for everyone, hoping that everyone would somehow survive and that the city would be ok.
"These Violent Delights have violent ends," Juliette whispered to herself.
This line definitely sums up the books well.
I gave this book 5 stars. Thank you to the publisher and Netgalley for my earc.
Warnings for the same types of things as the first book. Blood, talk of suicide/sacrifice, death, cuts, whipping/torture, political issues, etc.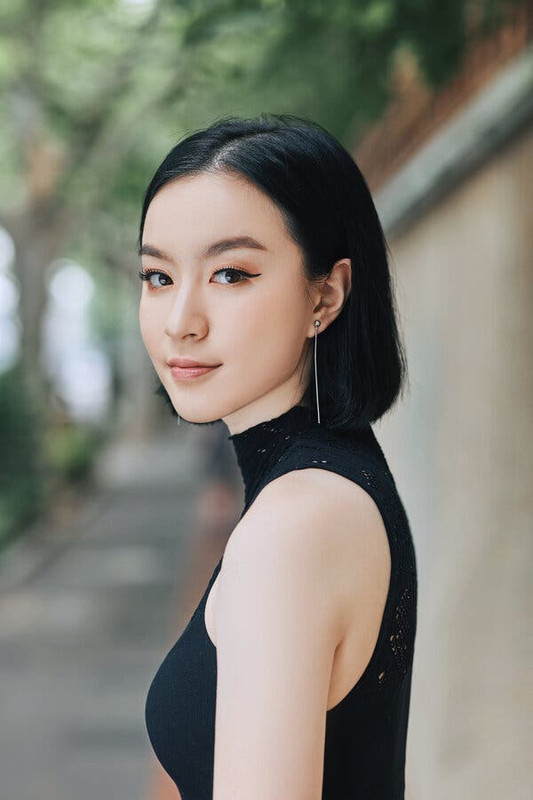 Chloe Gong is an undergraduate at the University of Pennsylvania, studying English and International Relations. During her breaks, she's either at home in New Zealand or visiting her many relatives in Shanghai. Chloe has been known to mysteriously appear by chanting "Romeo and Juliet is one of Shakespeare's best plays and doesn't deserve its slander in pop culture" into a mirror three times. You can find her on Twitter @thechloegong, check out her website at thechloegong.com or email her at chloegongwrites@gmail.com.
Up for grabs, we are giving away ONE (1) finished copy of These Violent Delights and ONE (1) finished copy of Our Violent Ends by Chloe Gong. This giveaway will run from November 1st through 20th at 11:59 PM CST and will be open to U.S. residents ONLY. One winner will be chosen. To enter, click the link below!
RAFFLECOPTER LINK: http://www.rafflecopter.com/rafl/display/1e4a114d48/?
Follow The Tour:
November 1st
Turn the Page Tours – Welcome Post
November 2nd
Confessions of a Reading Addict – Review
November 3rd
Quill Tree Fox – Review
November 4th
Emelie's Books – Review
November 5th
Dear Rivarie – Review
November 8th
TeaTimeLit – Guest Post & Review
Rampant Reading Reviews – Review
November 9th
Uponthebooktower – Review
The Book Review Crew – Review
November 10th
peachnace – Review
Metaphors and Miscellanea – Review
November 11th
JD's Book Journal – Review
Book Briefs – Review
November 12th
A Cup of Cyanide – Review
readherreviews – Review
November 15th
The Reading Chemist – Review
Lyrical Reads – Author Interview & Review
Moonlight Rendezvous – Review
November 16th
Stormy Reads YA – Review
Lauren's Bookshelf – Review
Stuck in the Stacks – Review
November 17th
Books are Magic Too – Review
Literary Delirium – Review
Starlight Strands – Review
November 18th
Confessions of a YA Reader – Review
Ruei's Reading Corner – Review
Justice for Readers – Review
November 19th
Wilted Pages – Review
Paper Blots – Review
Books and Bookish – Review