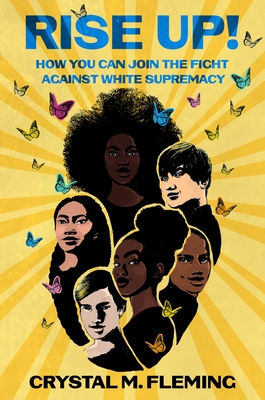 Rise Up! by Crystal M. Fleming
Where did racism come from? Why hasn't it disappeared? And what can young people do about it?
Through vivid narratives and contemporary examples ripped from the headlines, Rise Up! provides young readers with a first-of-its-kind resource for understanding racial injustice and its continued impact on the US today, addressing questions like: Why are white supremacists still openly marching in America? And why are undocumented children of color separated from their families and housed in cages?
Sociologist and critically-acclaimed author Crystal Fleming delivers an in-depth overview of the roots and legacies of racism in the US and offers young people ways in which they can help foster a more just society. With her honest, direct tone, Crystal imparts the knowledge and values that unite all antiracists who wish to join the struggle for equality in the hopes of building a more inclusive world: empathy, respect, and tolerance.
Crystal Marie Fleming, PhD, is a writer and sociologist who researches racism in the United States and abroad. She earned degrees from Wellesley College and Harvard University and is associate professor of sociology and Africana studies at Stony Brook University. Fleming writes about race, sexuality, and politics for publications including The Root, Black Agenda Report, Vox, and Everyday Feminism, and she has tens of thousands of followers on social media. She is the author of Resurrecting Slavery: Racial Legacies and White Supremacy in France.
http://www.crystalfleming.com/