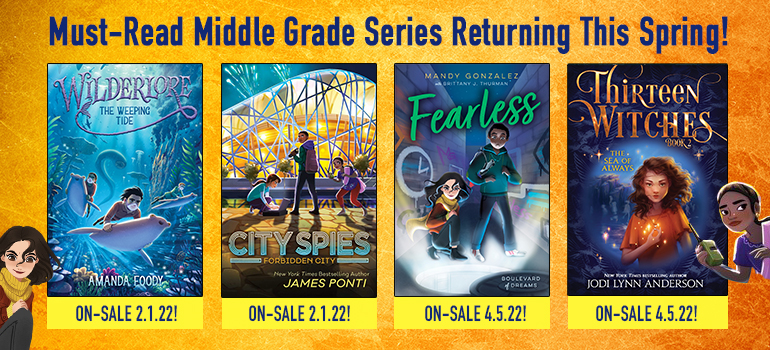 I'm excited to be sharing some information about upcoming middle grade releases from Simon & Schuster!  These books all look so good.  Each one is a sequel/continuing series.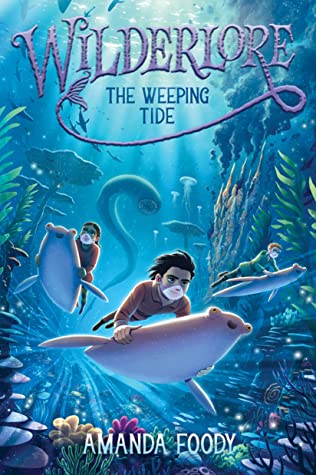 The Weeping Tide by Amanda Foody
Barclay and his friends must save an island city from the Legendary Beast of the Sea in this exciting second book in the Wilderlore series, perfect for fans of Nevermoor and How to Train Your Dragon.
Something is wrong at the Sea. The weeping tide, a carnivorous algae bloom, is eating up all the fish. Beasts are terrorizing the nearby Elsewheres. And Lochmordra, the Legendary Beast, is rising at random and swallowing ships whole.
Barclay's teacher, the famous Guardian Keeper Runa Rasgar, has been summoned to investigate, and as her apprentice, Barclay gets to join too. But Runa's nemesis has also been called to the Sea, and he's brought apprentices of his own. When the not-so friendly competition between them grows fierce, it's Barclay—the only one from the Elsewheres—who can't seem to keep up.
The key to stopping Lochmordra lies in his mythical home, but as the flood of the weeping tide encroaches, time is running out to find it. If the rival groups can't cast aside old grudges and learn to work together, soon the Sea will be destroyed completely. And all the while Barclay must ask himself: is there truly a place for him in the Wilderlands?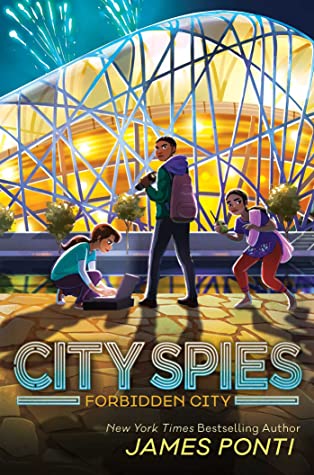 Forbidden City by James Ponti
In this third installment in the New York Times bestselling series from Edgar Award winner James Ponti, the young group of spies help a fellow agent in another international adventure perfect for fans of Spy School and Mrs. Smith's Spy School for Girls.
After taking down a mole within their organization, the City Spies are ready for their next mission—once again using their unique skills and ability to infiltrate places adults can't. The sinister Umbra has their sights set on recruiting a North Korean nuclear physicist by any means necessary, and the City Spies plan to keep an eye on his son by sending Paris to the chess prodigy's tournaments in Moscow and Beijing.
Meanwhile, Sydney's embedded as a junior reporter for a teen lifestyle site as she follows the daughter of a British billionaire on tour with the biggest act on her father's music label to uncover what links both the band and the billionaire have to a recent threat from an old Soviet missile base.
From a daring break-in at one of London's most exclusive homes to a dangerous undercover mission to a desperate search and rescue operation on the streets of Beijing, the City Spies have their work cut out for them on their most dangerous mission yet.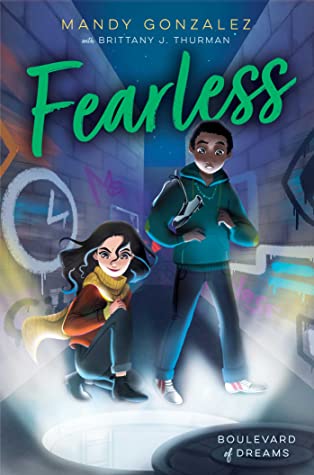 Boulevard of Dreams by Mandy Gonzalez and Brittney J. Thurman
Better Nate than Ever meets Love Sugar Magic in this spooky second novel in the Fearless middle grade series from Hamilton and Broadway star Mandy Gonzalez about a group of young thespians who time travel back to 1950s Broadway.
Twelve-year-old Relly can't wait for his beloved grandfather to finally see him on stage! Along with the rest of the Fearless Squad, Relly has just opened Our Time, a brand-new musical at the infamous Ethel Merman Theater. Though his grandfather would prefer his grandson pursue something more "practical," Relly just knows when he sees the show, he will change his mind and come around on Relly's love of theater and dance.
But right before their night show, a member of the Squad loses their phone down an open manhole. When the entire Squad goes down to help retrieve it, they find themselves in 1950s Manhattan. A big problem, considering the curtain goes up in about two hours—and over sixty years in the future!
With a series of clues, Relly discovers that his grandfather was a popular tap dancer, working the nightclub circuit and pursuing his dream of performing—something he's been discouraging Relly from doing lately. Perhaps this accidental fall into a different time wasn't so accidental after all. Can Relly help his grandfather and make it back in time for places in the show?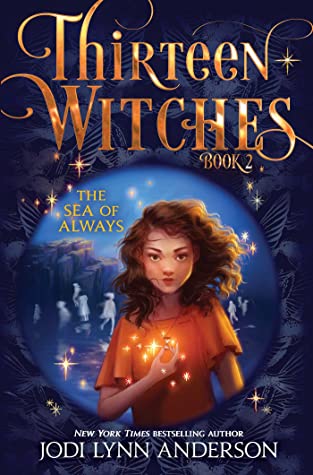 The Sea of Always by Jodi Lynn Anderson
Perfect for fans of Newbery winner The Girl Who Drank the Moon, the adventurous and utterly relatable second book in the haunting and magical Thirteen Witches series from New York Times bestselling author Jodi Lynn Anderson follows Rosie as she hunts the remaining witches.
After twelve-year-old Rosie Oaks's triumph over a powerful evil witch, a whole new world opened up to her—one full of witches who control many of the experiences that make life worth living and use their dominion to torment people. As the latest in a line of powerful witch hunters, it's up to Rosie to defeat them. With her loyal friend Germ by her side and her newly created witch-weapon at the ready, Rosie leaves home on a quest to find and vanquish the remaining of the original Thirteen Witches.
With the help of an enchanted time-traveling whale, Rosie travels through the depths of the sea and across vast distances as she seeks to fulfill her destiny. The lives of those she loves hang in the balance and her skills are put to the ultimate test as Rosie digs deep for the strength to complete her quest. But can one girl hope truly hope to eliminate forces that have been at work for centuries?