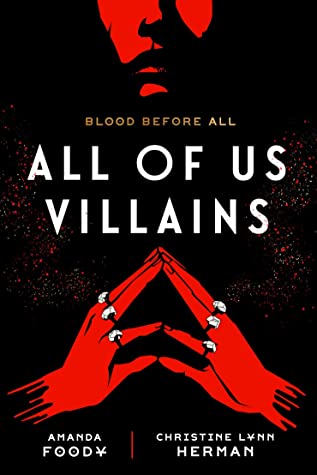 All Of Us Villains by Amanda Foody and Christine Lynn Herman
The Blood Moon rises. The Blood Veil falls. The Tournament begins.
Every generation, at the coming of the Blood Moon, seven families in the remote city of Ilvernath each name a champion to compete in a tournament to the death.
The prize? Exclusive control over a secret wellspring of high magick, the most powerful resource in the world–one thought long depleted.
This year, thanks to a salacious tell-all book, the seven champions are thrust into worldwide spotlight, granting each of them new information, new means to win, and most importantly: a choice – accept their fate or rewrite their story.
But this is a story that must be penned in blood.
I really enjoyed this! It definitely has a Hunger Games vibe, but with lots of magic.
There are chapters from four of the seven champions. We get Alistair, Isobel, Briony, and Gavin. There is a tournament for every generation to see who controls the high magick in the town. Seven kids go in and only one comes out alive. This tournament was pretty secret until someone released a book, A Tradition of Tragedy, that gave away their secrets. It made everything public. Each family had to choose their champion. There are different types of spells and curses that are kept in jewelry. In the tournament, there are powerful relics that can be claimed to help. Most of the tournaments end quickly, but they can last for three months. If there is no winner, every champion dies and there is no high magick for twenty years. Each champion went into this year's tournament determined to win. But one went in with the hopes that there was a way to break the curse and be a hero.
The pacing was good with this one. I had a harder time getting into it than expected, but once I did, the book was a quick read. I really liked all the characters. Like most villain type stories, no one is all good or all bad. I'm definitely excited for the second book.
I gave this book 4 1/2 stars rounded up to 5 on Goodreads. Thank you to the publisher and Edelweiss for my earc.
Warnings for blood, death, sacrifice, betrayal, curses.
Have you read this yet?  Is it on your TBR?