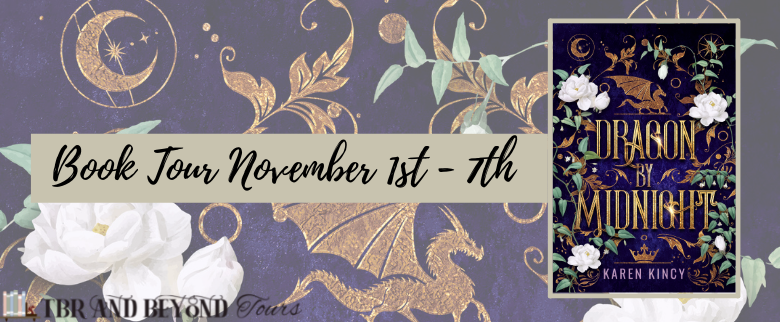 Welcome to my stop on the blog tour for Dragon by Midnight by Karen Kincy.  This tour is being hosted by TBR and Beyond Tours.
Dragon by Midnight by Karen Kincy
Genre: Young Adult Fantasy
Publishing Date: September 1, 2021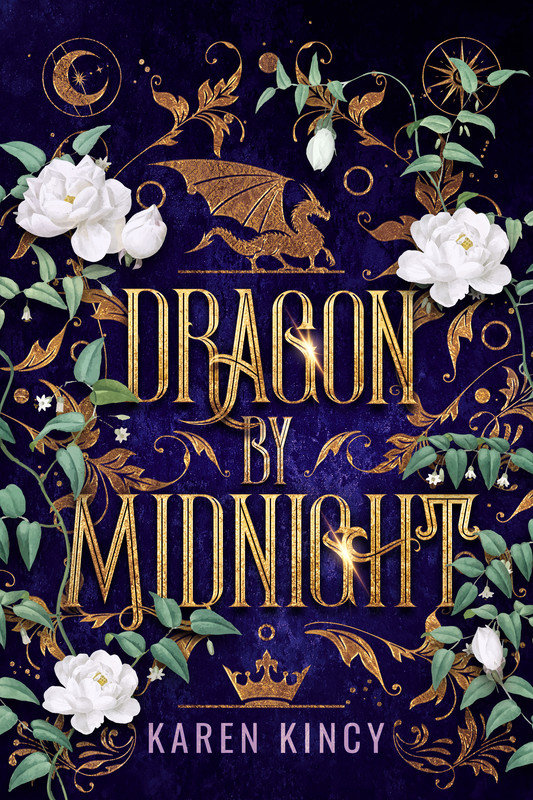 When the clock strikes midnight, Cinderella turns into a dragon.
Her dream twisted into a nightmare, she flees from the ball into the wilderness. Cinderella's only hope? Sikandar, a sorcerer banished from a faraway land, who promises to break the dragon curse. Even at her most beastly, he finds beauty within her. But he's hiding his own dark past, and saving Cinderella might be his last chance of redemption.
Together, Cinderella and Sikandar must untangle dangerous secrets and deadly magic before happily ever after is forever out of reach.
Dragon by Midnight features sweet romance, twists on fairytales, an obsession with breakfast, and a cinnamon roll hero who's too good to be bad.
Book Links:
Goodreads: https://www.goodreads.com/book/show/59095004-dragon-by-midnight 
Amazon: https://www.amazon.ca/gp/product/1737925109/ref=x_gr_bb_amazon?ie=UTF8&tag=x_gr_bb_amazon_ca-20&linkCode=as2&camp=15121&creative=330641 
Barnes and Noble: https://www.barnesandnoble.com/w/dragon-by-midnight-karen-kincy/1139868150?ean=9781737925101 
Book Depository: https://www.bookdepository.com/Dragon-by-Midnight-Kincy-Karen-Kincy/9781737925101?ref=grid-view&qid=1633524088278&sr=1-1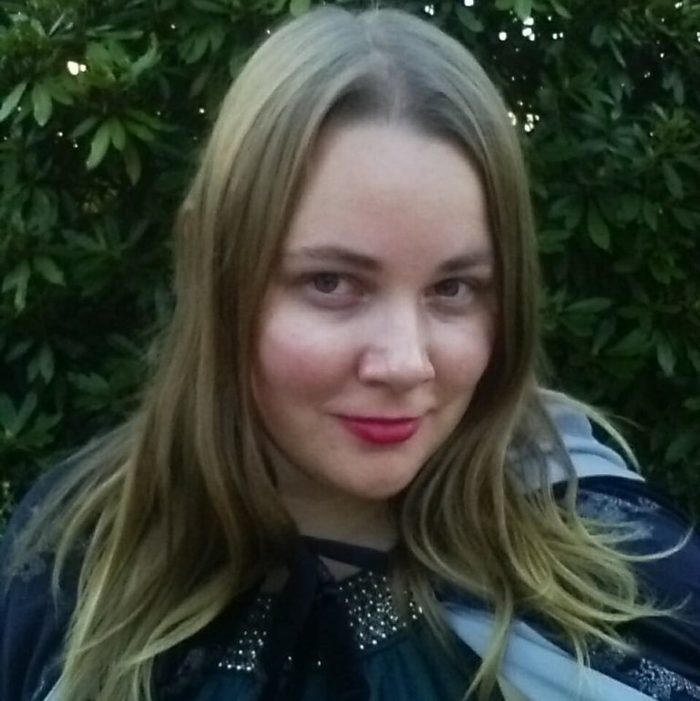 Karen Kincy writes books when she isn't writing code. She has a BA in Linguistics and Literature from The Evergreen State College, and an MS in Computational Linguistics from the University of Washington.
Author Links:
Website: https://karenkincy.com 
Twitter: https://twitter.com/karenkincy 
Instagram: https://www.instagram.com/karenkincyauthor/ 
Goodreads: https://www.goodreads.com/author/show/2900815.Karen_Kincy 
Facebook: https://www.facebook.com/KarenKincyAuthor/ 
Pinterest: https://www.pinterest.ca/karenkincy/_saved/ 
BookBub: https://www.bookbub.com/authors/karen-kincy 
Follow The Tour:
November 1st
Gwendalyn's Books – Review
Shanvireadsbooks – Review
Sometimes Leelynn Reads – Review
November 2nd
Confessions of a YA Reader – Promotional Post
Rae's Reading Lounge – Review & Favorite Quotes
thebookwiccan – Top 5 Reasons to Read Dragon by Midnight & 15 Reactions While Reading Dragon by Midnight
November 3rd
The Book Dutchesses – Promotional Post
Phannie the ginger bookworm – Top 5 Reasons to Read Dragon by Midnight & 15 Reactions While Reading Dragon by Midnight
One More Chapter – Review
November 4th
Stuck in Fiction – Promotional Post
The Someday Librarian – Review & Favorite Quotes
A Bookworm's Paradise – Top 5 Reasons to Read Dragon by Midnight
November 5th
Monogamist Reader – Promotional Post
Book Lover's Book Reviews – Review
The Reader's Game – Review, Favorite Quotes & Mood Board
November 6th
Nine Bookish Lives – Promotional Post
The Fictional Journal – Review
Yours A-fiction-ately – Review & Favorite Quotes
November 7th
Sara Mackenzi Reads – Review & Playlist
The Portuguese Bibliophile – Promotional Post
Boys' Mom Reads! – Review
Instagram:
November 1st
gwendalyn_books_ – Blogger's Choice
chaibooksandthemoon – Book Look & Top 5 Reasons to Read Dragon by Midnight
November 2nd
booksmoviesandstories – Review
thebookwiccan – Blogger's Choice
November 3rd
thebookdutchesses – Blogger's Choice
_leahreads – Blogger's Choice
November 4th
feliciareads11 – Blogger's Choice
thesomedaylibrarian – Blogger's Choice
November 5th
bookloversbookreviews – Blogger's Choice
rosyreadz – Book Look & Top 5 Reasons to Read Dragon by Midnight
November 6th
ninebookishlives – Blogger's Choice
yoursafictionately – Blogger's Choice
November 7th
dhirviepages – Review & Favorite Quotes
tbrandbeyond – Promotional Post