Goodreads Monday is hosted by Lauren's Page Turners.  All you have to do is show off a book from your TBR that you're looking forward to reading.
It's getting hard to remember which ones I've done already, so I'm sorry if you see a book pop up on these more than once.  It will happen.  Probably a lot.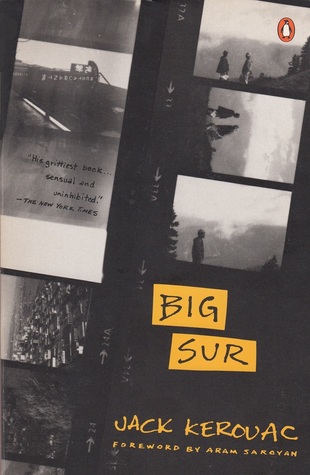 Big Sur by Jack Kerouac
"Each book by Jack Kerouac is unique, a telepathic diamond. With prose set in the middle of his mind, he reveals consciousness itself in all its syntactic elaboration, detailing the luminous emptiness of his own paranoiac confusion. Such rich natural writing is nonpareil in later half XX century, a synthesis of Proust, Céline, Thomas Wolfe, Hemingway, Genet, Thelonius Monk, Basho, Charlie Parker & Kerouac's own athletic sacred insight.
"Big Sur's humane, precise account of the extraordinary ravages of alcohol delirium tremens on Kerouac, a superior novelist who had strength to complete his poetic narrative, a task few scribes so afflicted have accomplished—others crack up. Here we meet San Francisco's poets & recognize hero Dean Moriarty ten years after On the Road. Jack Kerouac was a 'writer,' as his great peer W.S. Burroughs says, and here at the peak of his suffering humorous genius he wrote through his misery to end with 'Sea,' a brilliant poem appended, on the hallucinatory Sounds of the Pacific Ocean at Big Sur."—Allen Ginsberg 10/10/91 N.Y.C.
Have you read this yet?  Is it on your TBR?  Have you read any other Kerouac books?