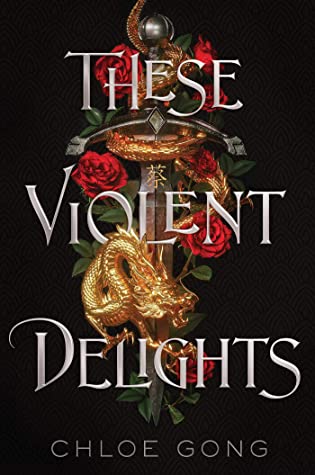 These Violent Delights by Chloe Gong
The year is 1926, and Shanghai hums to the tune of debauchery.
A blood feud between two gangs runs the streets red, leaving the city helpless in the grip of chaos. At the heart of it all is eighteen-year-old Juliette Cai, a former flapper who has returned to assume her role as the proud heir of the Scarlet Gang—a network of criminals far above the law. Their only rivals in power are the White Flowers, who have fought the Scarlets for generations. And behind every move is their heir, Roma Montagov, Juliette's first love…and first betrayal.
But when gangsters on both sides show signs of instability culminating in clawing their own throats out, the people start to whisper. Of a contagion, a madness. Of a monster in the shadows. As the deaths stack up, Juliette and Roma must set their guns—and grudges—aside and work together, for if they can't stop this mayhem, then there will be no city left for either to rule.
Perfect for fans of The Last Magician and Descendant of the Crane, this heart-stopping debut is an imaginative Romeo and Juliet retelling set in 1920s Shanghai, with rival gangs and a monster in the depths of the Huangpu River.
I liked this so much more than I expected! For some reason, I put off reading this even though I had it preordered. I'm so glad I finally picked it up.
These Violent Delights is a Romeo and Juliet retelling, but it's very different. Juliette is a member of the Scarlet Gang and Roma is a member of the White Flowers. Both families are rival gangs in Shanghai. Roma is Russian and Juliette is Chinese. They were once friends and in love. But the White Flowers killed a lot of Juliette's gang using information that only Roma could have given them. Juliette was sent to the US for school. She's now back home and hoping to run the gang in the future. Juliette is brutal and has no problems with killing. Roma is more sensitive and doesn't really like his life. But he is somewhat loyal and does want to take over. The two meet up again and have to work together in secret to protect their city from a monster. There is a monster and bugs that seem to take over a person right away. When someone is infected, they tear out their own throats. The book is pretty violent and gory. I loved the monster story, but I really loved the characters. Roma and Marshall were favorites, but I also really liked Juliette and Kathleen. The author got me towards the end and I'm really happy that I have the second book to start right away.
I gave this book 5 stars.
Warnings for blood, gore, death, betrayal, madness, plague, people suffering financially, medical issues, vaccines, class wars, drugs, underage (for US) drinking.
Have you read this yet?  Is it on your TBR?