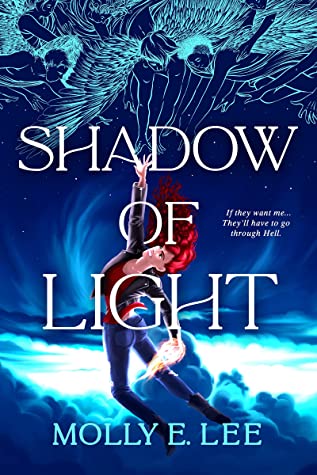 Shadow of Light by Molly E. Lee
Perfect for fans of Brigid Kemmerer and Tracy Wolff, the second novel in Molly E. Lee's angels-and-demons YA series will keep readers turning pages until the very end.
I just saved the boy I'm falling for from a gruesome death by a demon. And what does he have to say? I'm the key to opening the gates of Hell. I mean, a thank-you would've been nice. Or another scorching-hot, forbidden kiss. Either way, destiny will have to find someone else to torment, because I'm so done.
Or I was, until my little sister starts cackling exorcist-style and stares at me with eyes that aren't hers. They're Marid's, the Greater Demon I just kicked back to the dark realm he came from. Possessing Ray whenever he wants is his ultimate revenge.
The only way to break the tether between them includes a road trip through Hell, aka the Ather. I quickly discover nothing is as it seems in this place. Yeah, there are realms of terror, greed, and desire, but there's also peace, and a beauty I never knew existed…and it's eerily familiar.
With each obstacle we encounter, I slip a little further into the chaotic energy of my growing dark powers. And when an unexpected betrayal hits me square in the chest, I freefall into them.
Fate painted me as the monster of nightmares, and after this? Destiny is about to learn just how monstrous I can be.
This is a sequel, so there are spoilers from book one below.
Harley now knows that she's not human and that the man who raised her isn't her father. But all the matters to her is Ray's safety. Marid is still taking over Ray's mind and Harley needs to break the tether. In order to do that, she needs to go to the Ather and find Draven's brother. She will need his power to help her. Harley has to take Ray with her, which is terrifying. But it's the only way. They get a guide, Wallace, while there and Harley even adopts a hellhound along the way. She's constantly battling with her past and trying to figure out if she's the antichrist. She's learning more about Draven's past with his brother and their powers. Nothing goes well and Harley isn't sure anyone will come back alive when it's all done.
Most of the book is very plot driven and I don't want to ruin it for anyone. The pacing was good and the ending definitely has a cliffhanger. I'm looking forward to reading the third book next year when it's released.
I gave this book 4 stars. Thank you to Entangled Teen & Edelweiss for my review copy.
Warnings for abuse, neglect, religion, blood, animal fighting, and more. Please read the author's warnings before reading.
Have you read this yet?  Is it on your TBR?