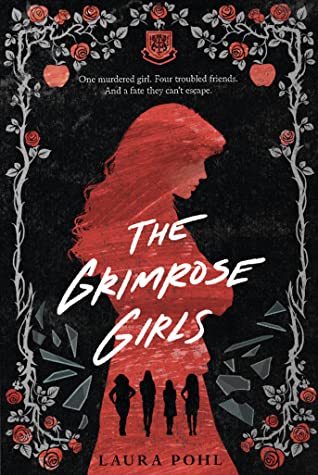 The Grimrose Girls by Laura Pohl
The Descendants meets Pretty little liars.

Four troubled friends, One murdered girl… and a dark fate that may leave them all doomed.

After the mysterious death of their best friend, Ella, Yuki, and Rory are the talk of their elite school, Grimrose Académie. The police ruled it a suicide, but the trio are determined to find out what really happened.

When Nani Eszes arrives as their newest roommate, it sets into motion a series of events they couldn't have imagined. As the girls retrace their friend's last steps, they uncover dark secrets about themselves and their destinies, discovering they're all cursed to repeat the brutal and gruesome endings to their stories until they can break the cycle.

This contemporary take on classic fairytales reimagines heroines as friends attending the same school. While investigating the murder of their best friend, they uncover connections to their ancient fairytale curses and attempt to forge their own fate before it's too late.
The Grimrose Girls was a great read for October. It wasn't too spooky, but the deaths were a bit gruesome.
Grimrose is an elite boarding school in Switzerland. There are four points of view for this. We get Ella, Rory, Yuki, and Nani. Nani is new, taking the place of the other's best friend, Ari. Ari drowned her first day back at school. The school believes it was either an accident or suicide, but Ella doesn't believe it. When Nani finds a book hidden in Ari's part of the room, the group realizes there is something more going on. The book seems like it's just fairy tales, but Ari wrote notes throughout the book. Ari also got a note from someone saying they would tell the truth. Ari's death reminded them of The Little Mermaid's tale. There is a list of names and Ari wrote that she was one of them on it. When other students start to die, the deaths follow other fairy tales from the book. Ella is determined to find out what happened to Ari and what curse must be on the school or the book before the rest of them end up dead.
I really enjoyed this more than I thought I would. It's a quick paced book full of diversity.
There is a content warning page in the beginning of the book. Please make sure you read that first. There is obviously talk of death and suicide, but other things as well.
I gave this book 4 stars. Thank you to the publisher and Netgalley for my earc.
Have you read The Grimrose Girls yet?  Is it on your TBR?