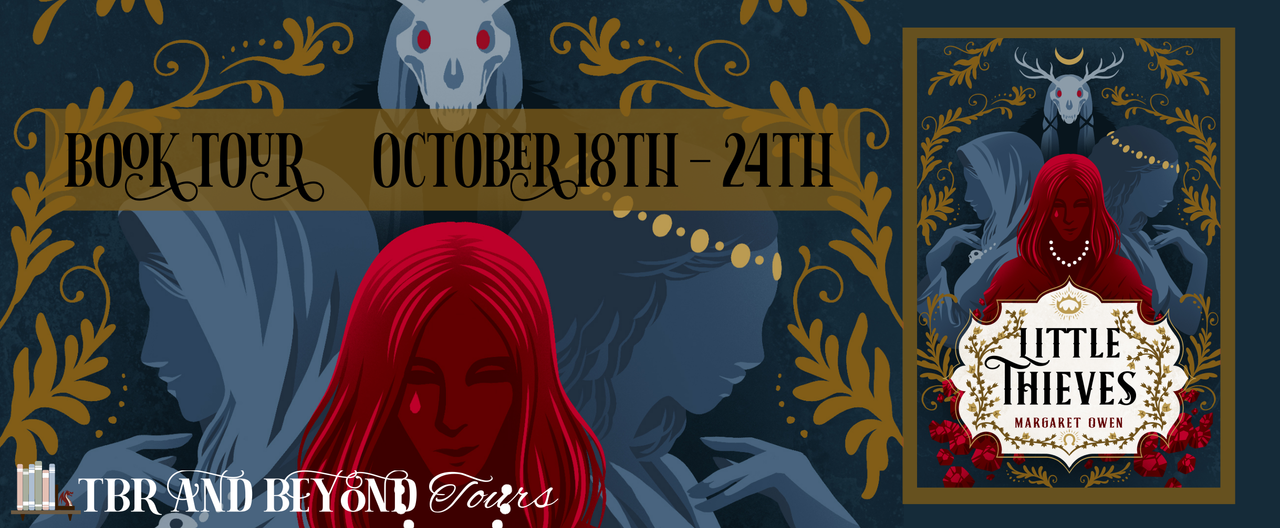 Welcome to my stop on the blog tour for Little Thieves by Margaret Owen.  This tour is being hosted by TBR and Beyond Tours.
Little Thieves by Margaret Owen
Genre: Young Adult Fantasy
Publishing Date: October 19, 2021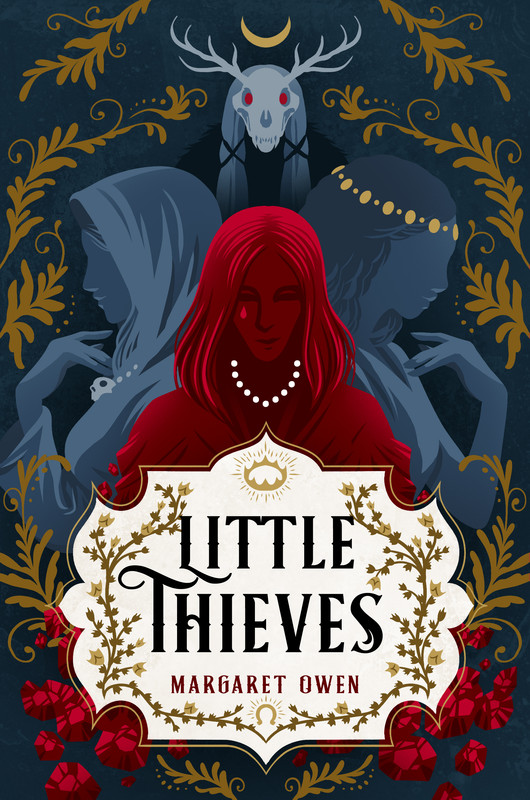 Once upon a time, there was a horrible girl…
Vanja Schmidt knows that no gift is freely given, not even a mother's love–and she's on the hook for one hell of a debt. Vanja, the adopted goddaughter of Death and Fortune, was Princess Gisele's dutiful servant up until a year ago. That was when Vanja's otherworldly mothers demanded a terrible price for their care, and Vanja decided to steal her future back… by stealing Gisele's life for herself.
The real Gisele is left a penniless nobody while Vanja uses an enchanted string of pearls to take her place. Now, Vanja leads a lonely but lucrative double life as princess and jewel thief, charming nobility while emptying their coffers to fund her great escape. Then, one heist away from freedom, Vanja crosses the wrong god and is cursed to an untimely end: turning into jewels, stone by stone, for her greed.
Vanja has just two weeks to figure out how to break her curse and make her getaway. And with a feral guardian half-god, Gisele's sinister fiancé, and an overeager junior detective on Vanja's tail, she'll have to pull the biggest grift yet to save her own life.
Margaret Owen, author of The Merciful Crow series, crafts a delightfully irreverent retelling of "The Goose Girl" about stolen lives, thorny truths, and the wicked girls at the heart of both.
Book Links:
Goodreads: https://www.goodreads.com/book/show/54017820-little-thieves 
Amazon: https://www.amazon.com/Little-Thieves-Margaret-Owen/dp/1250191904/?pldnSite=1 
Barnes and Noble: https://www.barnesandnoble.com/w/little-thieves-margaret-owen/1137176577?ean=9781250191908 
Book Depository: https://www.bookdepository.com/Little-Thieves-Margaret-Owen/9781250191908 
Indigo: https://www.chapters.indigo.ca/en-ca/books/little-thieves/9781250191908-item.html?s_campaign=goo-DSA_Books&gclid=CjwKCAjw-ZCKBhBkEiwAM4qfF_lbc3A8BS7lraLxDtetnGC_ldAP611VVoewurrM6Hopk0NVDCEauBoCFMoQAvD_BwE&gclsrc=aw.ds 
IndieBound: https://www.indiebound.org/book/9781250191908 
This book was such a pleasant surprise. I loved The Merciful Crow, but Little Thieves was even better! This is definitely a new favorite and I'm sad that I finished it. There was something about the characters that makes me wish that this would be a series. I'm not ready to be done with them. I believe this is a standalone. It ended like one, but I also felt like it could be open for more. However, I only see the one book listed on Goodreads, so I have to assume this is it.
The world in Little Thieves was a bit complicated, but once I got it, I read a lot quicker. The focus is really on the characters. Vanja is the thirteenth daughter of a thirteenth daughter. That makes her bad luck and her mom takes her as a young child and gives her away. Vanja is raised by two low Gods, death and fortune. She's told that she needs to pick one of them and will serve them for the rest of her life. Vanja refuses to serve anyone for that long, so she can never ask them for help with anything. She's stealing jewels with plans to run away and be on her own. A year earlier, she took special pearls from the princess, Giselle, and has been pretending to be her since. We learn later on why she did it. But for now, Vanja lives as the princess and is to marry a man, Adalbrecht von Reigenbach, twice her age. Vanja gets caught stealing by another low god and is cursed. Her body will slowly be taken over by rubies and pearls unless she can make amends. The god sends her daughter, Ragne, to keep watch over Vanja. Then a prefect, Emeric, is called in to investigate the thefts. Things are not going well for Vanja and she has only two weeks to get away from Adalbrecht, break the curse, and get away from the prefect.
I loved the writing, characters, and pacing. This book has some tough subjects and my heart broke for Vanja often. The romance was definitely a favorite of mine and Vanja is a new favorite character. I can't wait to see what Margaret Owen writes next.
I gave this book 5 stars. Thank you to the publisher and Edelweiss for my review copy.
Warnings for parental abandonment, abuse, whipping, sexual assault, getting drugged, addiction, death.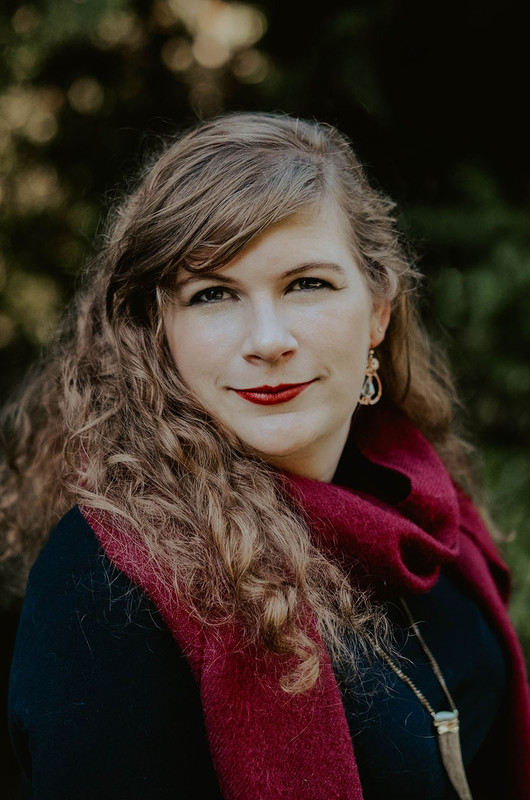 Born and raised at the end of the Oregon Trail, Margaret Owen first encountered an author in the wild in fourth grade. Roughly twenty seconds later, she decided she too would be an author, the first of many well-thought-out life decisions.
The career plan shifted frequently as Margaret spent her childhood haunting the halls of Powell's Books. After earning her degree in Japanese, her love of espresso called her north to Seattle, where she worked in everything from thrift stores to presidential campaigns. The common thread between every job can be summed up as: lessons were learned.
Fortunately, it turned out that fourth-grade Margaret was onto something. She now spends her days wrestling disgruntled characters onto the page, and negotiating a long-term hostage situation with her two monstrous cats. (There is surprisingly little difference between the two.) In her free time, she enjoys exploring ill-advised travel destinations, and raising money for social justice nonprofits through her illustrations.
Author Links:
Website: https://margaret-owen.com 
Twitter: https://twitter.com/what_eats_owls 
Instagram: https://www.instagram.com/what_eats_owls/ 
Goodreads: https://www.goodreads.com/author/show/17272080.Margaret_Owen 
Tumblr: https://terriblenerd.tumblr.com/ 
Follow The Tour:
October 18th
Kait Plus Books – Interview
Betwixt The Sheets – Review
Nine Bookish Lives – Promo Post
Book Briefs – Review
October 19th
The Fictional Journal – Review
Nonbinary Knight Reads and Reviews – Review & Tik Tok
Confessions of a YA Reader – Review
October 20th
Luchia Houghton Blog – Review
The Bookish Coven – Review & Favorite Quotes
Balancing Books and Beauties – Review & Book Look
The Book Dutchesses – Promo Post
October 21st
Stuck in Fiction – Top 5 Reasons to Read Little Thieves
Shelvesofstarlight – Review
thisbellereadstoo – Review, Favorite Quotes & Mood Board
Heylittlesiren – Review
October 22nd
Emelie's Books – Review, Favorite Quotes & Mood Board
Rampant Reading Reviews – Review
The Clever Reader – Review
Kerri McBookNerd – Top 5 Reasons to Read Little Thieves & 15 Reactions While Reading Little Thieves
October 23rd
And On She Reads – Review & Top 5 Reasons to Read Little Thieves
thebookwiccan – Top 5 Reasons to Read Little Thieves & 15 Reactions While Reading Little Thieves
Chasing Chapters – Top 5 Reasons to Read Little Thieves & Creative post (Memes)
October 24th
A Court of Coffee and Books – Interview
Stuck in the Stacks – Review
Gwendalyn's Books – Review
Reading Stewardess – Review & Playlist
Instagram:
October 18th
hoardingbooks.herdingcats – Review & Favorite Quotes
iambibliomane – Review
theink.slinger – Blogger's Choice
ninebookishlives – Blogger's Choice
bookbriefs – Blogger's Choice
October 19th
chaibooksandthemoon – Book Look & Top 5 Reasons to Read Little Thieves
tbrandbeyond – Promo Post
nonbinaryknight_reads – Blogger's Choice
confessionsofayareader – Blogger's Choice
October 20th
pagcturncr – Review
luchiahoughtonblog – Blogger's Choice
the_bookish_coven – Blogger's Choice
balancing_books_and_beauties – Blogger's Choice
thebookdutchesses – Blogger's Choice
October 21st
wild.legends – Review, Mood Board & Top 5 Reasons to Read Little Thieves
tinybooknest – 15 Reactions While Reading Little Thieves
ignitereads – Review
feliciareads11 – Blogger's Choice
shelvesofstarlight – Blogger's Choice
heylittlesiren – Blogger's Choice
October 22nd
thelindenbookie – Review
emmesbooks – Blogger's Choice
rampant_reading – Blogger's Choice
thecleverreader – Blogger's Choice
kerri_mcbooknerd – Blogger's Choice
October 23rd
fangirlpixiebooks – Promo Post
djreadsbooks – Playlist, Favorite Quotes & Tik Tok
thebookwiccan – Blogger's Choice
chasingchapters_ – Blogger's Choice
October 24th
shelf_blame – Review
stuck.in.the.stacks – Blogger's Choice
acourtofcoffeeandbooks – Blogger's Choice
skygoddess1 – Blogger's Choice