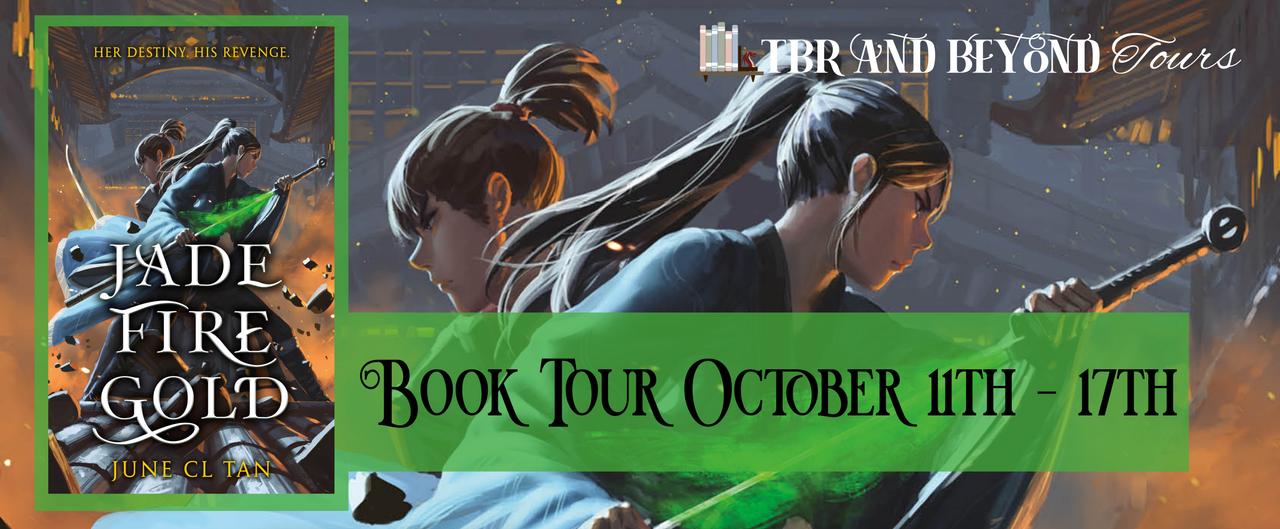 Welcome to my stop on the blog tour for Jade Fire Gold by June CL Tan.  This tour is being hosted by TBR and Beyond Tours.
Jade Fire Gold by June CL Tan
Genre: Young Adult Fantasy
Publishing Date: October 12, 2021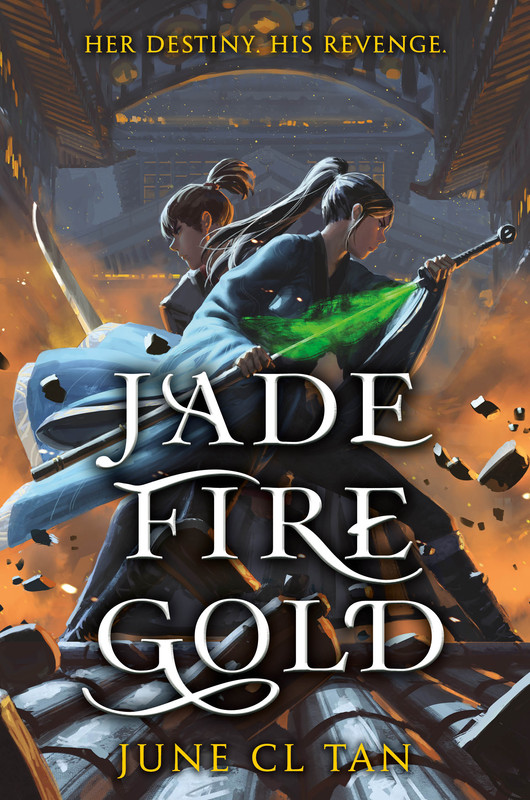 Content Warnings: self-harm (gouging, eye horror; non-graphic), child abuse (physical, verbal, emotional manipulation/gaslighting), parent death (implied, off-page), character deaths mentions and descriptions of fantasy/magical violence (blood, war, political violence), mentions and descriptions of physical symptoms that might be triggering to those with emetophobia
Girls of Paper and Fire meets The Tiger at Midnight in June CL Tan's stunning debut, inspired by Chinese mythology, with rich magic and an epic slow-burn romance.
In an empire on the brink of war . . .
Ahn is no one, with no past and no family.
Altan is a lost heir, his future stolen away as a child.
When they meet, Altan sees in Ahn a path to reclaiming the throne. Ahn sees a way to finally unlock her past and understand her arcane magical abilities.
But they may have to pay a far deadlier price than either could have imagined.
Ferocious action, shadowy intrigue, and a captivating romance collide in June CL Tan's debut, a stunning homage to the Xianxia novel with a tender, beating heart, perfect for fans of The Bone Witch and We Hunt the Flame.
Book Links:
Goodreads: https://www.goodreads.com/book/show/56645963-jade-fire-gold 
Amazon: https://www.amazon.com/gp/product/0063056364/ref=x_gr_bb_amazon?ie=UTF8&tag=x_gr_bb_amazon_ca-20&linkCode=as2&camp=15121&creative=330641 
Barnes and Noble: https://www.barnesandnoble.com/w/jade-fire-gold-june-cl-tan/1138598416?ean=9780063056367 
Book Depository: https://www.bookdepository.com/Jade-Fire-Gold-June-CL-Tan/9780063056367?ref=grid-view&qid=1631305148015&sr=1-1 
Indigo: https://www.chapters.indigo.ca/en-ca/books/jade-fire-gold/9780063056367-item.html?ref=isbn-search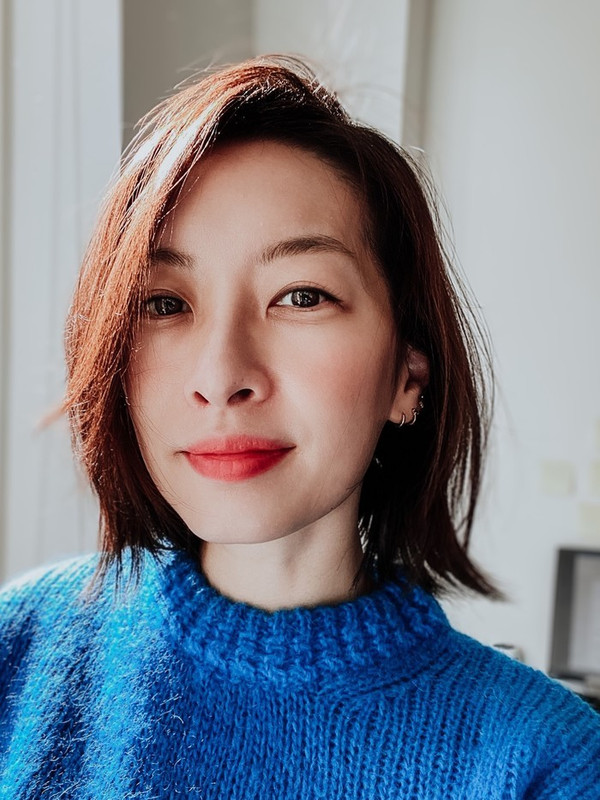 June CL Tan grew up in Singapore where she was raised on a diet of classic books and wuxia movies, caffeine and congee. After obtaining three degrees, she decided she had enough of academia. Thankfully, those degrees were somewhat related to telling stories and now, she resides in New York City, writing under the watchful eye of her crafty cat. Jade Fire Gold is her debut novel.
Author Links:
Website: https://www.junecltan.com/ 
Twitter: https://twitter.com/junescribbles 
Instagram: https://www.instagram.com/junescribbles/ 
Goodreads: https://www.goodreads.com/author/show/17899194.June_C_L_Tan 
One winner will receive a finished copy of Jade Fire Gold. The giveaway starts on October 11th and ends on October 18th!
Follow The Tour:
October 11th
AndOnSheReads – Interview & Top 5 Reasons to Read Jade Fire Gold
Bookz Forever – Review & Mood Board
Balancing Books and Beauties – Promo Post
heylittlesiren – Review
October 12th
Luchia Houghton Blog – Favorite Quotes & Top 5 Reasons to Read Jade Fire Gold
Confessions of a YA Reader – Promo Post
PopTheButterfly Reads – Review
October 13th
The Book Dutchesses – Promo Post
I Dream in Books – Review & Journal spread
Thin Bookish Girl – Review & Favorite Quotes
October 14th
Kait Plus Books – Intereview
Stuck in Fiction – Promo Post
The Scarlet Bookkeeper – Review
The Bookish Coven – Review
October 15th
Books Over Everything – Review
Confessions of a Reading Addict – Review
Nine Bookish Lives – Promo Post
October 16th
The Caffeinated Rareder – Review & Favorite Quotes
Sometimes Leelynn Reads – Review & Journal spread
Lu is Lost in books – Review & Favorite Quotes
October 17th
Stuck in the Stacks – Interview
Sheaf and I – Review
An Ode To Fiction – Review & Favorite Quotes
Book Lover's Book Reviews – Review
Instagram:
October 11th
simplebeccamee – Review
bookz.forever – Blogger's Choice
balancing_book_and_beauties – Blogger's Choice
heylittlesiren – Blogger's Choice
October 12th
booksandstrokes – Journal Spread & Mood Board
luchiahoughtonblog – Blogger's Choice
popthebutterfly – Blogger's Choice
October 13th
dhirviepages – Review & Favorite Quotes
thebookdutchesses – Blogger's Choice
idreaminbooks – Blogger's Choice
demidork._ – Blogger's Choice
October 14th
tbrandbeyond – Promo
feliciareads11 – Blogger's Choice
shanayareads – Blogger's Choice
the_bookish_coven – Blogger's Choice
October 15th
chaibooksandthemoon – Book Look & Top 5 Reasons to Read Jade Fire Gold
books_over_everything – Blogger's Choice
ninebookishlives – Blogger's Choice
October 16th
thecaffeinatedrareder – Blogger's Choice
sometimesleelynnreads – Blogger's Choice
luislostinbooks – Blogger's Choice
October 17th
tinybooknest – Top 5 Reasons to Read Jade Fire Gold, Favorite Quotes & Mood Board
stuck.in.the.stacks – Blogger's Choice
sheafandink – Blogger's Choice
bookloversbookreviews – Blogger's Choice