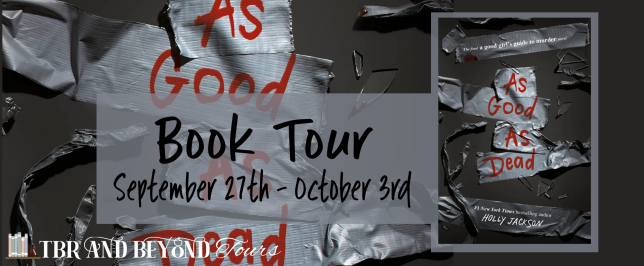 Welcome to my stop on the blog tour for As Good As Dead by Holly Jackson.  This tour is being hosted by TBR and Beyond Tours.
As Good as Dead (A Good Girl's Guide to Murder #3) by Holly Jackson
Genre: Young Adult Mystery Thriller
Publishing Date: September 28, 2021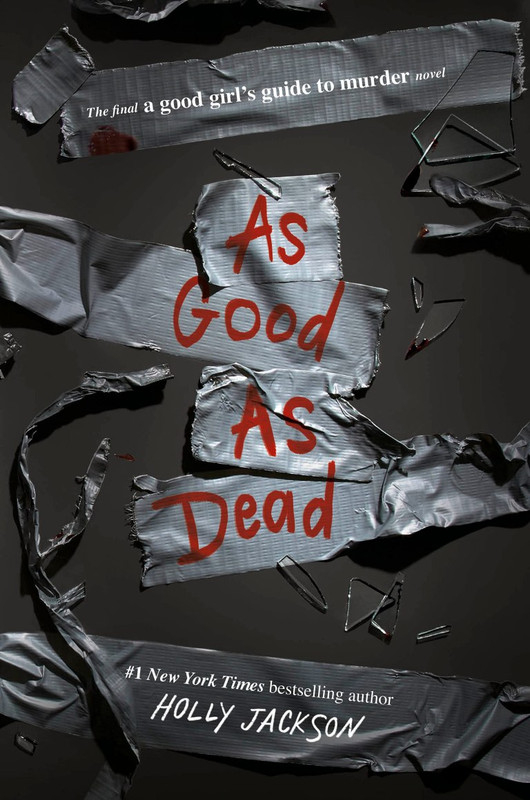 The highly anticipated, edge-of-your-seat conclusion to the addictive A Good Girl's Guide to Murder series that reads like your favorite true crime podcast or show. By the end, you'll never think the same of good girls again.
Pip's good girl days are long behind her. After solving two murder cases and garnering internet fame from her crime podcast, she's seen a lot.
But she's still blindsided when it starts to feel like someone is watching her. It's small things at first. A USB stick with footage recording her and the same anonymous source always asking her: who will look for you when you're the one who disappears? It could be a harmless fan, but her gut is telling her danger is lurking.
When Pip starts to find connections between her possible stalker and a local serial killer, Pip knows that there is only one choice: find the person threatening her town including herself–or be as good as dead. Because maybe someone has been watching her all along…
Book Links:
Goodreads: https://www.goodreads.com/book/show/56905097-as-good-as-dead 
Amazon: https://www.amazon.com/gp/product/0593379853?tag=randohouseinc20715-20 
Barnes and Noble: https://www.barnesandnoble.com/w/as-good-as-dead-holly-jackson/1139854481;jsessionid=E2018B72AE6B532002F8AA2A3FF4769E.prodny_store02-atgap09?ean=9780593379851 
Book Depository: https://www.bookdepository.com/Good-Dead-Holly-Jackson/9781405298605?ref=grid-view&qid=1629399193124&sr=1-1 
Indigo: https://www.chapters.indigo.ca/en-ca/books/as-good-as-dead-the/9780593379851-item.html?ikwid=as+good+as+dead&ikwsec=Home&ikwidx=0#algoliaQueryId=e1c2f4d290e10f25253f1fed3f6d6f4e 
IndieBound: https://www.indiebound.org/book/9780593379851?aff=penguinrandom 
I'm really sad that this is the last book in this series. I've really enjoyed reading all of these.
This is a book three, so there could be spoilers below from the first two books.
Pip is having a very hard time coping after Stanley was killed in front of her. She hears gunshots and thinks there's blood on her all the time. She's been secretly buying Xanax and using it to sleep. Nothing is really helping though and she wonders if one more case will do it. Max is out and she's still pissed about it. Pip starts getting weird messages, chalk drawings, and dead pigeons and realizes that she has a stalker. She and Ravi look those things up online and find a connection to a serial killer that has been in prison for years. The man confessed, but later said it was a false confession. Pip starts to wonder if he's really innocent and if there's a serial killer after her now.
Things took a weird turn I didn't expect in the middle of the book. I wasn't really happy with it, but it did work out ok. I found the book so hard to put down and read longer than normal to finish it. I needed to know what would happen. I liked the focus on friendship along with the serial killer/revenge/stalking storyline. Ravi is still awesome and might be the perfect boyfriend ever. There are quite a few twists throughout the book and the pacing is excellent.
I gave this book 4 1/2 stars rounded up to 5 on Goodreads. Thank you to the publisher and Netgalley for my review copy.
Warnings for stalking, blood, fire, mention of date rape, ptsd, death, gore.
Holly Jackson started writing stories at a young age, completing her first (poor) attempt at a novel when she was fifteen. She graduated from the University of Nottingham, where she studied literary linguistics and creative writing, with a master's degree in English. She enjoys playing video games and watching true-crime documentaries so she can pretend to be a detective. She lives in London. A Good Girl's Guide to Murder is her debut novel.
Author Links:
Twitter: https://twitter.com/hojay92 
Instagram: https://www.instagram.com/hojay92/?hl=en 
Goodreads: https://www.goodreads.com/author/show/18229614.Holly_Jackson 
Follow The Tour:
September 27th
Kait Plus Books – Journal Spread
Devouring Books – Promo Post
I'm All Booked Up – Review & Top 5 Reasons to Read As Good As Dead
lousbookstuff – Review & Favourite Quotes
September 28th
Confessions of a YA Reader – Review
Books of Amber – Review & Playlist
Books of Magic and Mystery – 15 Reactions While Reading As Good As Dead & Mood Board
September 29th
HerBookishObsession – Review
TeaTimeLit – Review
The Blind Scribe – Book Look & Top 5 Reasons to Read As Good As Dead
Reading With Teresa – Review
September 30th
Nine Bookish Lives – Promo Post
Books and Strokes – Review, Favourite Quotes & Mood Board
SubtleBookish – Review & Journal Spread
Books Are Magic Too – Review
October 1st
Jen Jen Reviews – Review
Abby's Blog – Review & Favourite Quotes
Rajiv's Reviews – Review
Bookz Forever – Review & Top 5 Reasons to Read As Good As Dead
October 2nd
dinipandareads – Review & Journal Spread
The BookDutchesses -Review & TikTok
The Broke Book Blog – Top 5 Reasons to Read As Good As Dead
October 3rd
Stuck in Fiction – Promo Post
The Portuguese Bibliophile -Review & Mood Board
The Reading Raccoon – Review
Page by Paige Books – Review & Mood Board
Instagram:
September 27th
tbrandbeyond – Promo Post
wilcoxmandy – Blogger's Choice
imallbookedup – Blogger's Choice
lousbookstuff – Blogger's Choice
September 28th
timeswithbooks – Journal Spread
booksofamber – Blogger's Choice
booksofmagicandmystery – Blogger's Choice
September 29th
littlefootreader – Review
readbycait – Blogger's Choice
the_blind_scribe – Blogger's Choice
readresa – Blogger's Choice
September 30th
ninebookishlives – Blogger's Choice
booksandstrokes – Blogger's Choice
subtlebookish -Blogger's Choice
booksaremagictoo – Blogger's Choice
October 1st
iambibliomane – Review
abbyreadsandreviews – Blogger's Choice
rajivsreviews – Blogger's Choice
bookz.forever – Blogger's Choice
October 2nd
bookstagramofmine – Review, Favourite Quotes & Journal Spread
thebookdutchesses – Blogger's Choice
thebrokebookblog – Blogger's Choice
October 3rd
feliciareadss11 – Blogger's Choice
booking.with.janelle – Review & Playlist
thereadingracooon – Blogger's Choice
pagebypaigebooks – Blogger's Choice