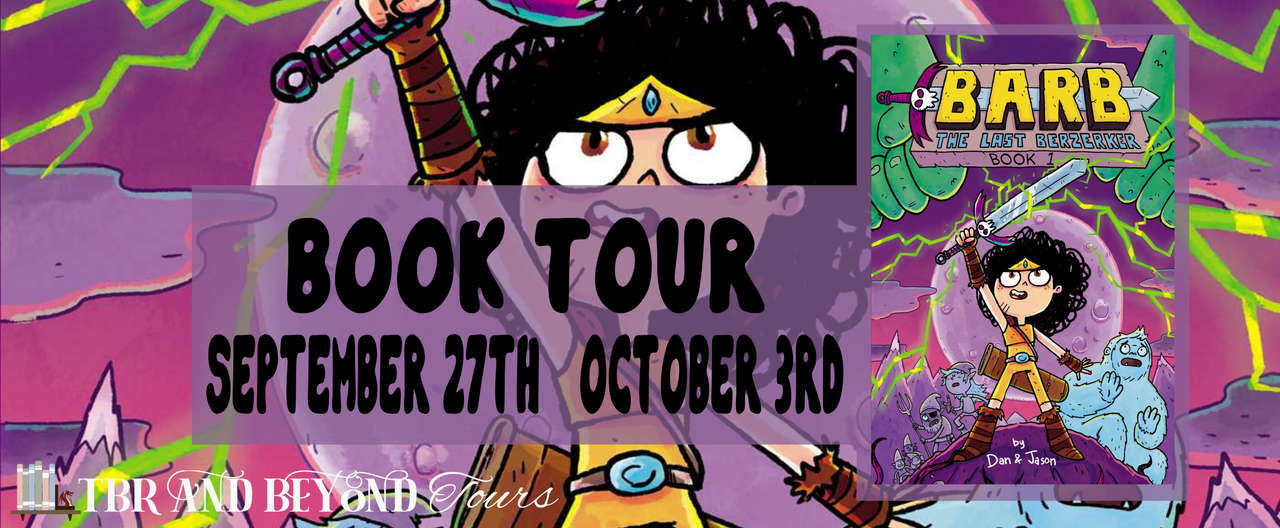 Welcome to my stop on the blog tour for Barb the Last Berzerker by Dan Abdo & Jason Patterson.  This tour is being hosted by TBR and Beyond Tours.
Barb the Last Berzerker by Dan Abdo & Jason Patterson
Genre: Middle Grade Graphic Novel
Publishing Date: September 28, 2021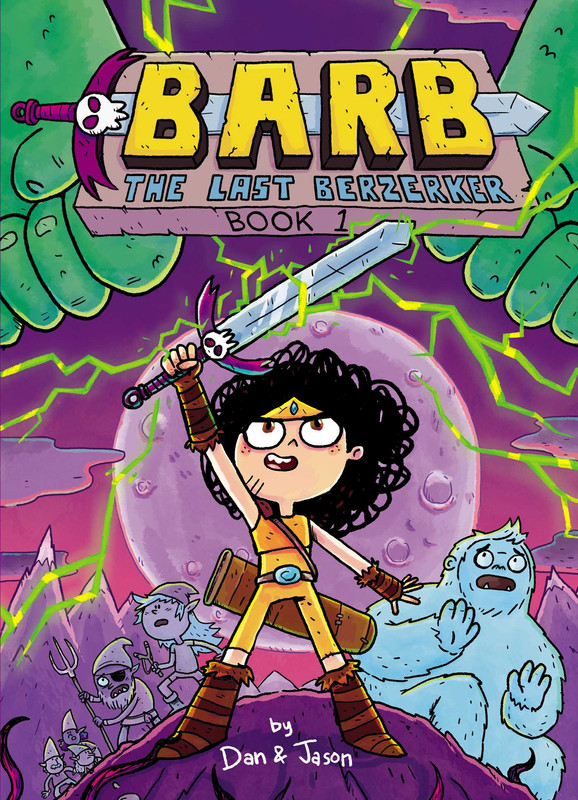 She-Ra and the Princesses of Power meets Dav Pilkey's Dog Man in this sidesplitting graphic novel about a young Berzerker who has to rescue her fellow warriors from the evil villain Witch Head before he destroys the world!
Barb is a Berzerker, one of a group of warriors sworn to protect the land of Bailiwick from the scourge of monsters that plagues it. But the fearsome crew seem to have met their match in the nefarious Witch Head. Using power from his magical sword, he tricked the Zerks and took them captive. Only Barb was able to escape—and she took Witch Head's Shadow Blade with her.
Now it's up to Barb to free her fellow warriors so they can stop Witch Head from taking over Bailiwick. On the way, she'll battle vampire goat fiends, snot goblins, and a giant with serious foot odor issues (but don't mention that to him—he's very sensitive about it). Luckily, she's got her best friend, Porkchop the yeti, to help her.
But the power of the Shadow Blade has a mind of its own, and the deeper Barb gets into her quest, the harder it is to keep the blade's awesome power under control.
Book Links:
Goodreads: https://www.goodreads.com/book/show/56980444-barb-the-last-berzerker 
Amazon: https://www.amazon.com/exec/obidos/ASIN/1534485716?tag=simonsayscom 
Barnes and Noble: https://www.barnesandnoble.com/w/barb-the-last-berzerker-dan-abdo/1138779359;jsessionid=3B8ED9B205C5CBBA7DB3B2313A162071.prodny_store02-atgap13?ean=9781534485716&st=AFF&2sid=Simon%20&%20Schuster_7567305_NA&sourceId=AFFSimon%20&%20Schuster 
Book Depository: https://www.bookdepository.com/Barb-Last-Berzerker-1-Dan-Abdo/9781534485716?ref=grid-view&qid=1629052117198&sr=1-1 
Indigo: https://www.chapters.indigo.ca/en-ca/books/barb-the-last-berzerker/9781534485716-item.html?ikwid=Barb+the+Last+Berzerker+by+Dan+Abdo+%26+Jason+Patterson&ikwsec=Home&ikwidx=0#algoliaQueryId=b6bc9db44b9b01ac41570bbfd62dcd07 
IndieBound: https://www.indiebound.org/book/9781534485716?aff=simonsayscom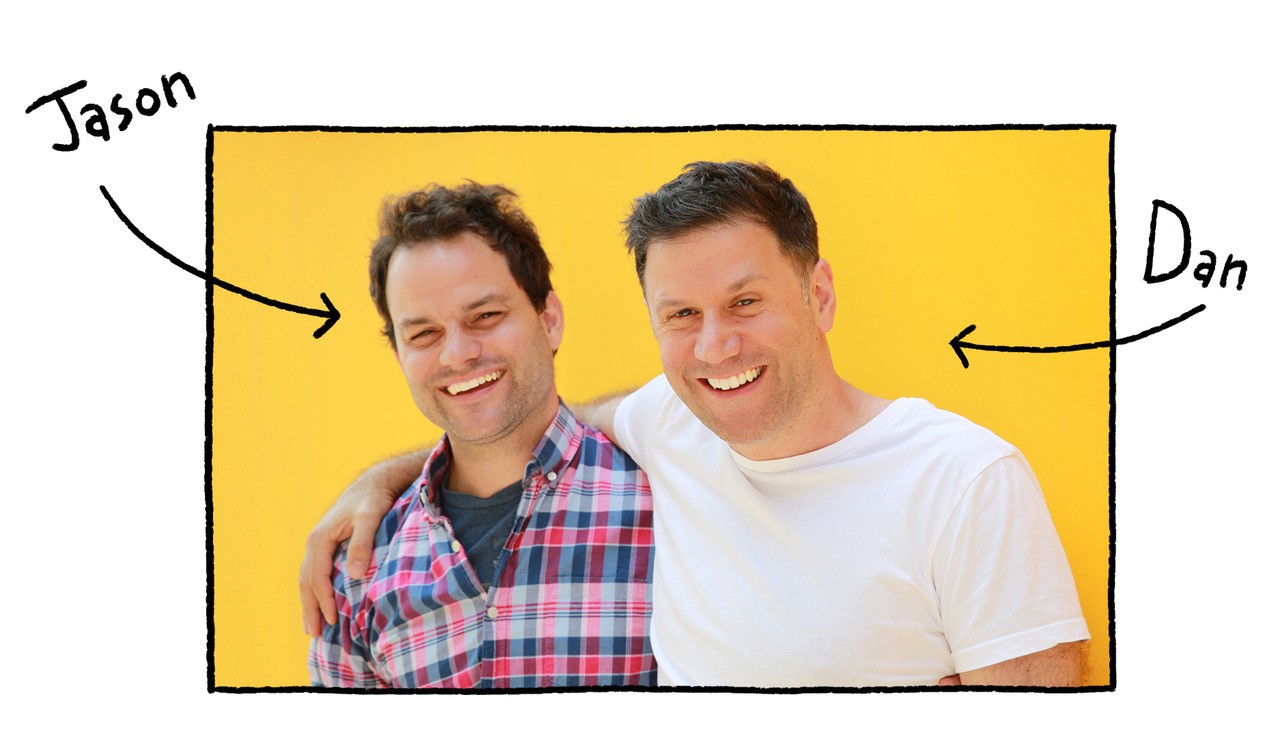 Dan Abdo and Jason Patterson are long-time partners, best friends and co-creators of the animated comedy series Rocket Monkeys. Their credits also include developing shows for Disney, Sesame Workshop, Fox, and Nickelodeon, not to mention directing lots and lots of animated commercials.
Author Links:
Website: https://www.danandjason.net/ 
Instagram: https://www.instagram.com/danandjason/ 
Tumblr: https://danandjasonuniverse.tumblr.com/ 
Facebook: https://www.facebook.com/danandjason/ 
Follow The Tour:
September 27th
Nine Bookish Lives – Review
Confessions of a YA Reader – Promo Post
Rajiv's Reviews – Review
September 28th
SubtleBookish – Interview & Top 5 Reasons to Read Barb the Last Berzerker
Twirling Book Princess – Review
September 29th
The Book Dutchesses – Promo Post
The Tattooed Librarian – Review & Top 5 Reasons to Read Barb the Last Berzerker
Justice For Readers – 15 Reactions While Reading Barb the Last Berzerker
September 30th
Stuck in Fiction – Review
Jen Jen Reviews – Review
October 1st
TBR and Beyond – Promo Post
DJREADSBOOKS – Top 5 Reasons to Read Barb the Last Berzerker
The Bookwyrm's Den – Review
October 2nd
Kait Plus Books – Interview
The Reader's Game – Review & Mood Board
October 3rd
Fangirl Pixie Books – Promo Post
The Nutty Bookworm Reads Alot – Review
The Momma Spot – Review
Instagram:
September 27th
ninebookishlives – Blogger's Choice
rajivsreviews – Blogger's Choice
September 28th
subtlebookish – Blogger's Choice
September 29th
thebookdutchesses – Blogger's Choice
glitter4brunch – Blogger's Choice
justiceforreaders – Blogger's Choice
September 30th
feliciareads11 – Blogger's Choice
jenjenreviews – Blogger's Choice
October 1st
tbrandbeyond – Blogger's Choice
djreadsbooks – Blogger's Choice
srbetler -Blogger's Choice
October 2nd
thereadersgamebrooke – Blogger's Choice
October 3rd
fangirlpixiebooks – Blogger's Choice
BookDragonsTBR -Blogger's Choice