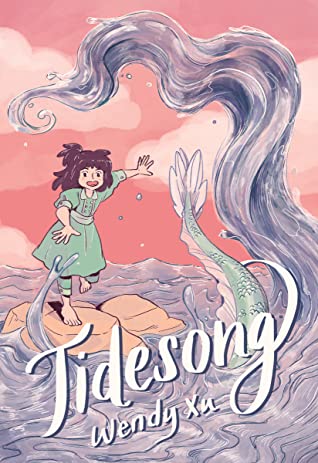 Tidesong by Wendy Xu
Perfect for fans of Studio Ghibli and The Tea Dragon Society, this is a magically heartwarming graphic novel about self-acceptance and friendship.
Sophie is a young witch whose mother and grandmother pressure her to attend the Royal Magic Academy—the best magic school in the realm—even though her magic is shaky at best. To train for her entrance exams, Sophie is sent to relatives she's never met.
Cousin Sage and Great-Aunt Lan seem more interested in giving Sophie chores than in teaching her magic. Frustrated, Sophie attempts magic on her own, but the spell goes wrong, and she accidentally entangles her magic with the magic of a young water dragon named Lir.
Lir is trapped on land and can't remember where he came from. Even so, he's everything Sophie isn't—beloved by Sophie's family and skilled at magic. With his help, Sophie might just ace her entrance exams, but that means standing in the way of Lir's attempts to regain his memories. Sophie knows what she's doing is wrong, but without Lir's help, can she prove herself?
I really enjoyed this and can't wait to see how the final book looks in color.
Sophie is a young witch that wants to get into the best school. She goes to live with her aunt to practice her magic, but she's not very good at it. Sophie's aunt criticizes her a lot and her self esteem is bad. She tries magic by herself and ends up connecting to a young water dragon, Lir. Lir can't remember the past and can't change back. Sophie uses Lir to help with her magic, but she needs to help Lir find a way to get back home.
I really liked the setting and magic in this book. The artwork is great, too. I gave this 4 stars.
Thank you to Quill Tree Books for my review copy.
Have you read this yet?  Is it on your TBR?