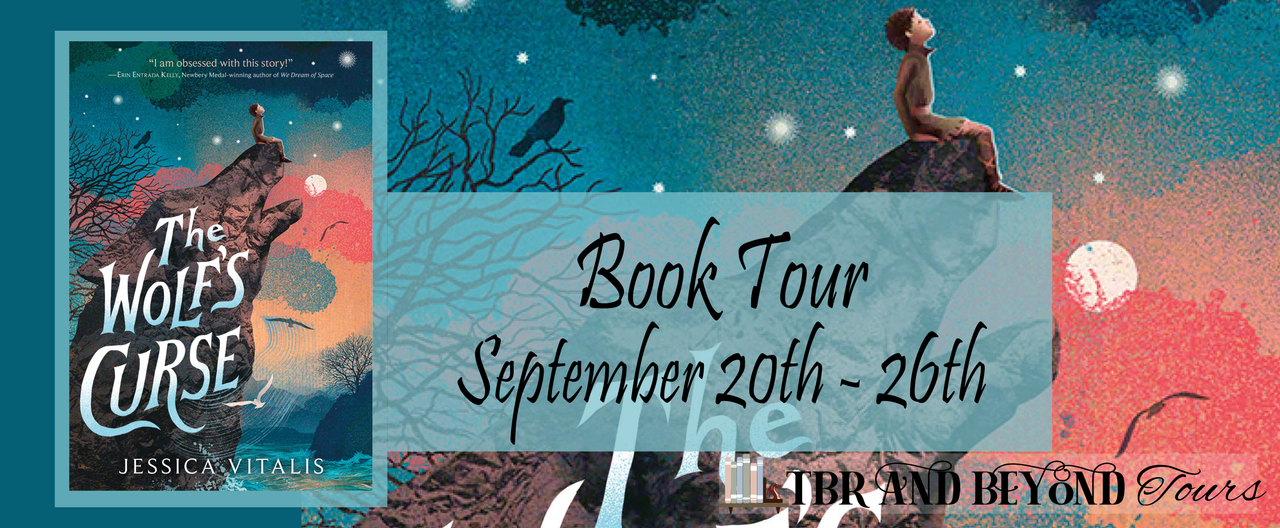 Welcome to my stop on the blog tour for The Wolf's Curse by Jessica Vitalis.  This tour is being hosted by TBR and Beyond Tours.
The Wolf's Curse by Jessica Vitalis
Genre: Middle Grade Fantasy
Publishing Date: September 21, 2021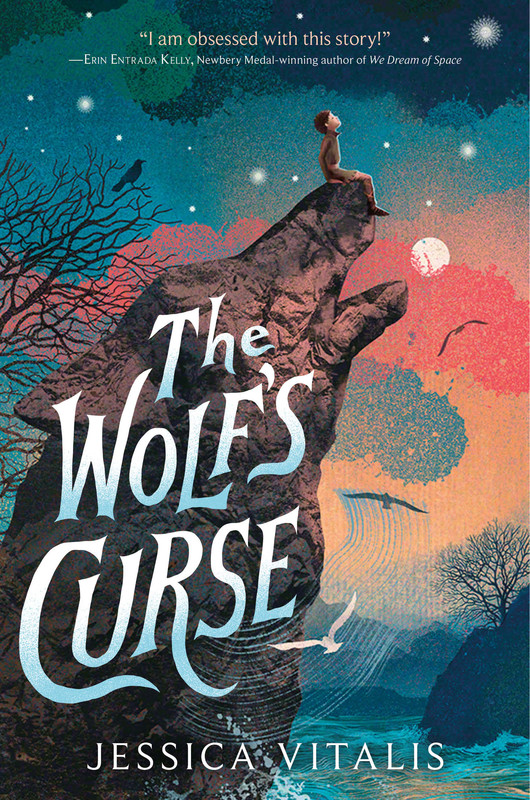 Content Warnings: Grief, death
"The path ahead isn't easy. It will be filled with darkness and despair, and you will almost certainly regret your decision, just as I regret mine."
~Narrator, The Wolf's Curse
Twelve-year-old Gauge's life has been cursed since the day he witnessed a Great White Wolf steal his grandpapá's soul, preventing it from reaching the Sea-in-the-Sky and sailing into eternity. When the superstitious residents of Bouge-by-the-Sea accuse the boy of crying wolf, he joins forces with another orphan to prove his innocence. They navigate their shared grief in a journey that ultimately reveals life-changing truths about the wolf––and death. Narrated in a voice reminiscent of The Book Thief and Lemony Snicket, this fast-paced adventure is perfect for fans of literary fiction fantasy such as A Wish in the Dark and The Girl Who Drank the Moon.
Book Links:
Goodreads: https://www.goodreads.com/book/show/56382404-the-wolf-s-curse 
Amazon: https://www.amazon.com/Wolfs-Curse-Jessica-Vitalis/dp/0063067412/ref=sr_1_1?dchild=1&keywords=the+wolf+curse+vitalis&qid=1611855846&sr=8-1 
Barnes and Noble: https://www.barnesandnoble.com/w/the-wolfs-curse-jessica-vitalis/1138509271?ean=9780063067417 
Book Depository: https://www.bookdepository.com/Wolfs-Curse-Jessica-Vitalis/9780063067417?ref=grid-view&qid=1611855559343&sr=1-2 
Indigo: https://www.chapters.indigo.ca/en-ca/home/search/?keywords=The+Wolf%27s+Curse 
IndieBound: https://www.indiebound.org/book/9780063067417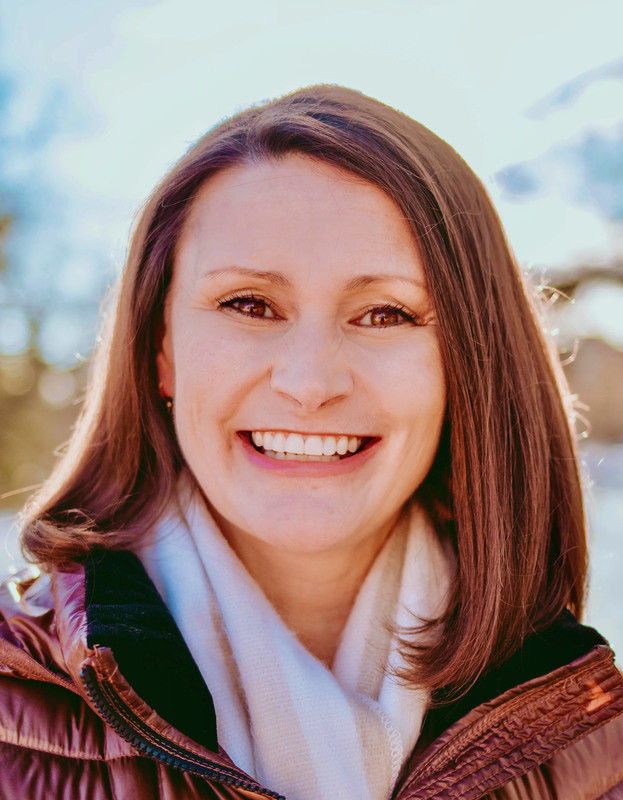 JESSICA VITALIS is a Columbia MBA-wielding writer. After leaving home at 16, Vitalis explored several careers before turning her talents to middle grade literature. She brings her experience growing up in a nontraditional childhood to her stories, exploring themes such as death and grief, domestic violence, and socio-economic disparities. With a mission to write entertaining and thought-provoking literature, she often includes magic and fantastical settings. As an active volunteer in the kidlit community, she's also passionate about using her privilege to lift up other voices. In addition to volunteering with We Need Diverse Books and Pitch Wars, she founded Magic in the Middle, a series of free monthly recorded book talks, to help educators introduce young readers to new stories. She was recently named a 2021 Canada Council of the Arts Grant Recipient. An American expat, she now lives in Canada with her husband and two precocious daughters. She loves traveling, sailing and scuba diving, but when she's at home, she can usually be found reading a book or changing the batteries in her heated socks. 
Author Links:
Website: https://jessicavitalis.com/ 
Twitter: https://twitter.com/jessicavitalis 
Instagram: https://www.instagram.com/jessicavauthor/ 
Goodreads: https://www.goodreads.com/author/show/20520269.Jessica_Vitalis 
Facebook: https://www.facebook.com/jessicavauthor 
Follow The Tour:
September 20th
Nine Bookish Lives – Review
perusewithcoffee – Review
Embers of Eleanor – Review, Favourite Quotes & Mood Board
September 21st
The Fictional Journal – Interview & Mood Board
Books and Babble – Review
September 22nd
A Bookworm's Paradise – Top 5 Reasons to Read The Wolf's Curse
Sometimes Leelynn Reads – Review & 15 Reactions While Reading The Wolf's Curse
Rajiv's Reviews – Review
September 23rd
The Bookish Coven – Interview
The Book Dutchesses – Review
September 24th
Felicia Stuck in Fiction – Top 5 Reasons
Yesha Soni Books Teacup and Reviews – Review
Kristi Housman Confessions of a YA Reader – Promo Post
September 25th
Kait Plus Books – Interview
dinipandareads – Review & Top 5 Reasons to Read The Wolf's Curse
September 26th
the nuttybookworm reads alot – Review
Tirilu – Review & Favourite Quotes
TLC Book Nook – Review
Instagram:
September 20th
tbrandbeyond – Promo Post
ninebookishlives – Blogger's Choice
September 21st
jrundy85 – Review & Top 5 Reasons to Read The Wolf's Curse
September 22nd
sometimesleelynnreads – Blogger's Choice
rajivsreviews – Blogger's Choice
September 23rd
chaibooksandthemoon – Promo Post
thebookdutchesses – Blogger's Choice
September 24th
feliciareads11 – Blogger's Choice
books_teacup_reviews – Blogger's Choice
September 25th
iambibliomane – Review
September 26th
dhirviepages – Review & Favourite Quotes
tlcbooknook – Blogger's Choice