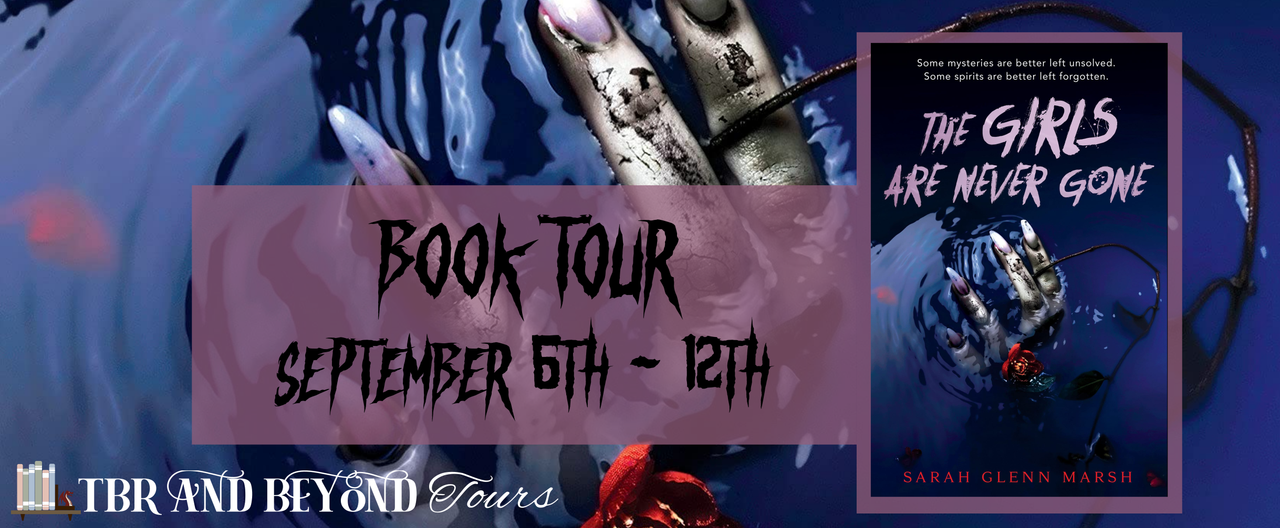 Welcome to my stop on the blog tour for The Girls Are Never Gone by Sarah Glenn Marsh.  This tour is being hosted by TBR and Beyond Tours.
The Girls are Never Gone by Sarah Glenn Marsh
Genre: Young Adult Horror
Publishing Date: September 7, 2021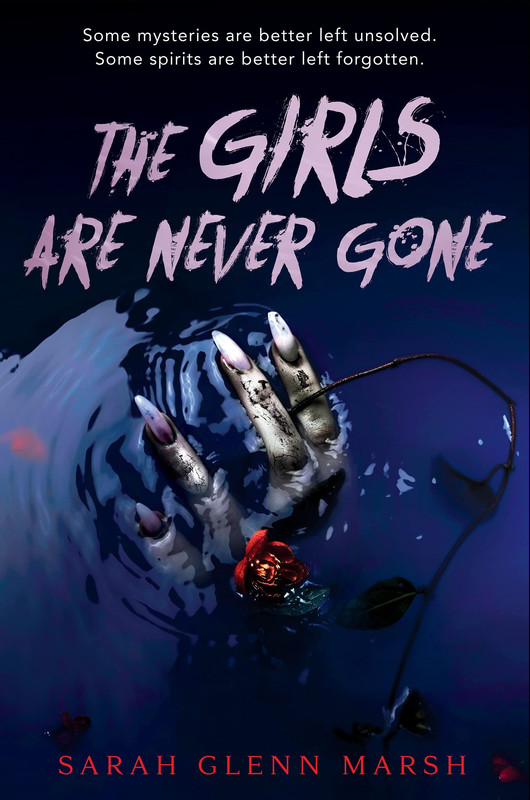 Content Warnings: scary images, death
The Conjuring meets Sadie when seventeen-year-old podcaster Dare takes an internship in a haunted house and finds herself in a life-or-death struggle against an evil spirit.

Dare Chase doesn't believe in ghosts.

Privately, she's a supernatural skeptic. But publicly, she's keeping her doubts to herself—because she's the voice of Attachments, her brand-new paranormal investigation podcast, and she needs her ghost-loving listeners to tune in.

That's what brings her to Arrington Estate. Thirty years ago, teenager Atheleen Bell drowned in Arrington's lake, and legend says her spirit haunts the estate. Dare's more interested in the suspicious circumstances surrounding her death—circumstances that she believes point to a living culprit, not the supernatural. Still, she's vowed to keep an open mind as she investigates, even if she's pretty sure what she'll find.

But Arrington is full of surprises. Good ones like Quinn, the cute daughter of the house's new owner. And baffling ones like the threatening messages left scrawled in paint on Quinn's walls, the ghastly face that appears behind Dare's own in the mirror, and the unnatural current that nearly drowns their friend Holly in the lake. As Dare is drawn deeper into the mysteries of Arrington, she'll have to rethink the boundaries of what is possible. Because if something is lurking in the lake…it might not be willing to let her go. 
Book Links:
Goodreads: https://www.goodreads.com/book/show/55588056-the-girls-are-never-gone 
Amazon: https://www.amazon.com/Girls-Are-Never-Gone/dp/1984836153 
Barnes and Noble: https://www.barnesandnoble.com/w/the-girls-are-never-gone-sarah-glenn-marsh/1138435039 
Book Depository: https://www.bookdepository.com/Girls-Are-Never-Gone-Sarah-Glenn-Marsh/9781984836151?ref=grid-view&qid=1625517934195&sr=1-1 
Indigo: https://www.chapters.indigo.ca/en-ca/books/the-girls-are-never-gone/9781984836151-item.html?ikwid=The+Girls+are+Never+Gone&ikwsec=Home&ikwidx=0#algoliaQueryId=5a0ada747a1f514c85ecdfaf88d2bef0 
IndieBound: https://www.indiebound.org/book/9781984836151 
I really enjoyed this! There were a lot of creepy moments and the pacing was great throughout.
Dare is running a podcast on ghost stories. She's always been interested in seeing a ghost, but she always just finds the truth with supposed hauntings. Dare can figure out why there's a shadow or weird sounds. At this point, she's pretty sure ghosts aren't real, but she's not quite ready to give up. When she is contacted about an old house being rehabbed, she decides to sign up to help. There is a ghost story she'd love to solve. A young girl drowned when she was a teenager. The lake could be dangerous, but there was something weird. Atheleen was sunken and skeletal when found. That couldn't happen that quickly from drowning in a lake. Dare wants to figure out what really happened. Was Atheleen killed? She joins two other teens, Quinn and Holly, to work for the summer. Dare becomes friends with the others quickly. And maybe even more with Quinn. Quinn was already at the house and was sure she was being haunted before Dare got there. The girls work on the house, but they also start searching for answers. They find out that there is more than one death at this lake and they're all young girls. The house starts acting out and the lake is growing. Things flood, bells that are disconnected make sounds, and then the bruises show up. Dare is sure there are explanations for everything, but the house is sure to make her a believer. The girls learn the truth and need to stay alive.
I gave this book 4 1/2 stars rounded up to 5 on Goodreads.
Warnings for illness (diabetes), drowning, ghost stories, hauntings, and death.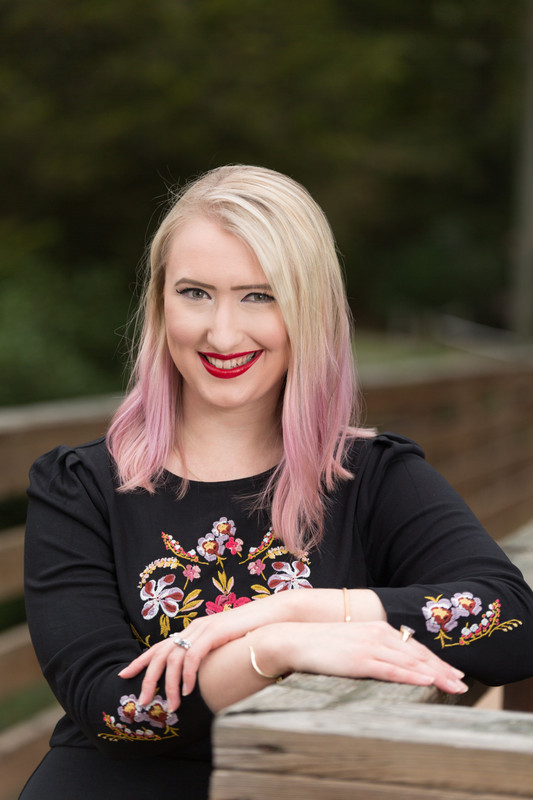 Sarah Glenn Marsh writes young adult novels and children's picture books. An avid fantasy reader from the day her dad handed her a copy of The Hobbit and promised it would change her life, she's been making up words and worlds ever since.
When she's not writing, Sarah frequents the pottery studio, volunteers her time to sighthound rescue, and raises awareness about her autoimmune disease, Type 1 diabetes. She often enjoys pursuits of the nerd variety, from video games to tabletop adventures. She's never met an animal or a doughnut she didn't like.
Sarah lives in Richmond, Virginia with her husband and their tiny zoo of four rescued sighthounds, two birds, and many fish. She is the author of Fear the Drowning Deep, the Reign of the Fallen series, and several books for younger readers.
Author Links:
Website: https://www.sarahglennmarsh.com/ 
Twitter: https://twitter.com/SG_Marsh 
Instagram: https://www.instagram.com/sarahmarshauthor/ 
Goodreads: https://www.goodreads.com/author/show/10909117.Sarah_Glenn_Marsh
Follow The Tour:
September 6th
AndOnSheReads – Interview
Althea Is Reading – Review & Mood Board
Kerri McBookNerd – Review
Thin Bookish Girl -Review & Top 5 Reasons to Read The Girls are Never Gone
September 7th
The Character Study – Book Look & Top 5 Reasons to Read The Girls are Never Gone
Jessicareadstoomuch – Review
Always, Bookish Lovers – 15 Reactions While Reading The Girls are Never Gone
Robinlea BookBird – Review & Favourite Quotes
September 8th
teatimelit – Review
Phannie the ginger bookworm – Review, Playlist, & Favourite Quotes
The Book Dutchesses – Review
Theladywithbooks – Playlist & Top 5 Reasons to Read The Girls are Never Gone
September 9th
SubtleBookish – Interview & Top 5 Reasons to Read The Girls are Never Gone
Nine Bookish Lives – Review
The Candid Cover – Review & Favourite Quotes
Goddess of Books – Review
September 10th
Rania's Rambling Reads – 15 Reactions While Reading The Girls are Never Gone
Book Lover's Book Reviews – Review
uponthebooktower – Review & Mood Board
Popthebutterfly Reads – Review
September 11th
Stuck in Fiction – Top 5 Reasons to Read The Girls are Never Gone
leosthetics – Review & Favourite Quotes
Confessions of a YA Reader – Review
Sometimes Leelynn Reads – Review & Journal Spread
September 12th
Kait Plus Books – Interview
Jen Jen Reviews – Review
Paperbacks and Planners – Review & Mood Board
Rajiv's Reviews – Review
Instagram:
September 6th
tbrandbeyond – Promo Post
kerri_mcbooknerd – Blogger's Choice
demidork._ – Blogger's Choice
September 7th
itsjessica.readstoomuch – Blogger's Choice
alwaysbookishlovers -Blogger's Choice
robinlea1218 -Blogger's Choice
September 8th
rosyreadz – Top 5 Reasons to Read The Girls are Never Gone & 15 Reactions While Reading The Girls are Never Gone
readbycaity – Blogger's Choice
thebookdutchesses – Blogger's Choice
theladywithbooks_ – Blogger's Choice
September 9th
subtlebookish – Blogger's Choice
ninebookishlives – Blogger's Choice
goddess_ofbooks – Blogger's Choice
September 10th
chaibooksandthemoon – Review & Favourite Quotes
bookloversbookreviews – Blogger's Choice
uponthebooktower – Blogger's Choice
popthebutterfly – Blogger's Choice
September 11th
feliciareads11 – Blogger's Choice
thereadingowlvina – Review
sometimesleelynnreads – Blogger's Choice
September 12th
lazyfeline89 – Review
planners.and.paperbacks – Blogger's Choice
rajivsreviews – Blogger's Choice