We have a super fun back to school challenge for September.  You can join HERE.  You do need to be a member of the TBR and Beyond facebook group to participate.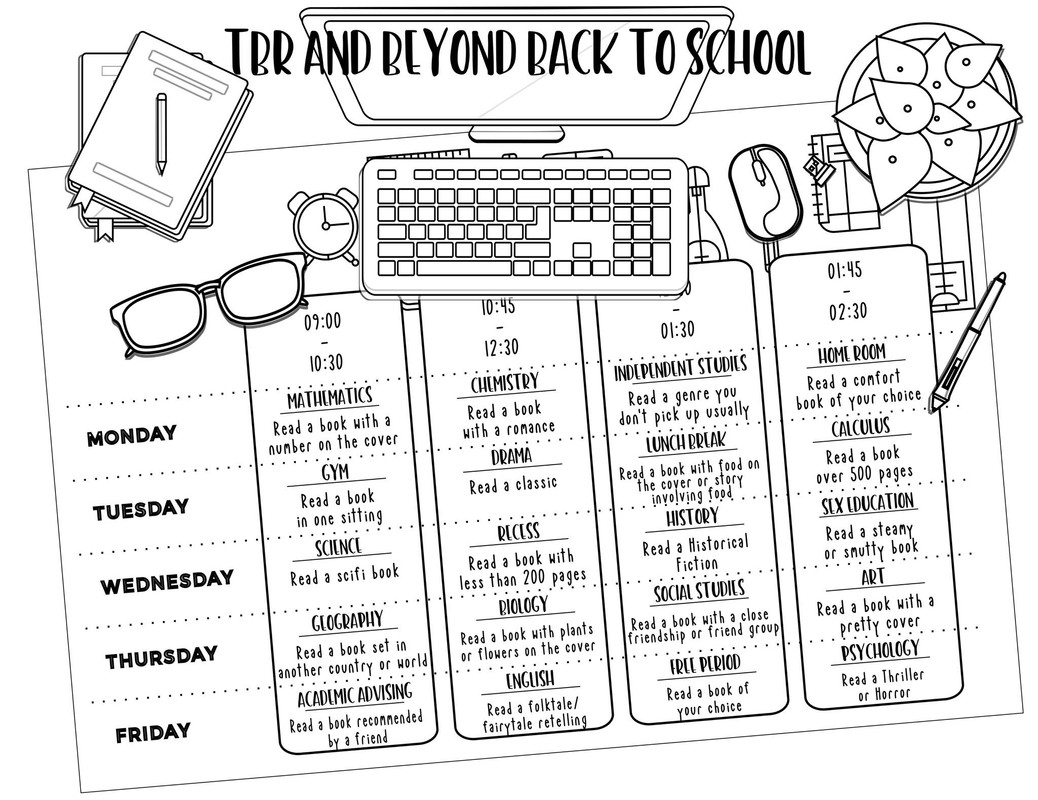 The Rules:
Take the School Timetable in the comments, pick a day and read books according to the prompts. Finished all prompts on that day and still have time, pick another day and so on.
You cannot double up on this one.
Finishing the game is when you hit the finish line. T
A prize is up for grabs. One participant will win a book of their choice (up to $15 US) from Book Depository.
Yes, the contest is INTERNATIONAL.
Points for the prize:
Participating – 2 points
Completing one challenge – 1 point
Completing all four challenges of a day – 5 points
Colour the desk colouring page – 5 points
If you read any of our Group Reads you will get 3 extra points for each. Do all four? Get 15 extra entries.
That Weekend by Kara Thomas
Six Crimson Cranes by Elizabeth Lim
The Maidens by Alex Michaelides
Beach Read by Emily Henry
The Girl in the Tower by Katherine Arden
Here is the list of prompts:
MONDAY
Mathematics – Read a book with a number on the cover
Chemistry – Read a book with a romance
Independent Studies – Read a genre you don't pick up usually
Home Room – Read a comfort book of your choice
TUESDAY
Gym – Read a book in one sitting
Drama – Read a classic
Lunch Break – Read a book with food on the cover or story involving food
Calculus – Read a book over 500 pages
WEDNESDAY
Science – Read a scifi book
Recess – Read a book with less than 200 pages
History – Read a Historical Fiction
Sex Education – Read a steamy or smutty book
THURSDAY
Geography – Read a book set in another country or world
Biology – Read a book with plants or flowers on the cover
Social Studies – Read a book with a close friendship or friend group
Art – Read a book with a pretty cover
FRIDAY
Academic Advising – Read a book recommended by a friend
English – Read a folktale/fairytale retelling
Free Period – Read a book of your choice
Psychology – Read a Thriller or Horror
We might have a couple more ways during the challenge on ways you can earn some bonus points. We'll announce them at random, so keep an eye out!
Will you be joining us this month?