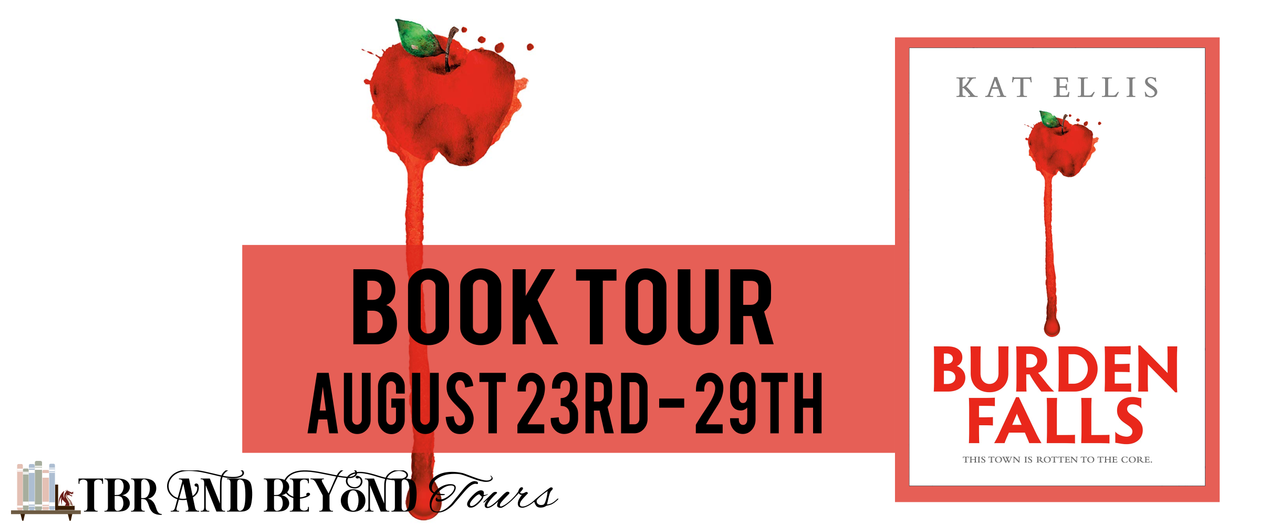 Welcome to my stop on the blog tour for Burden Falls by Kat Ellis.  This tour is being hosted by TBR and Beyond Tours.
Burden Falls by Kat Ellis
Genre: Young Adult Horror
Publishing Date: August 24, 2021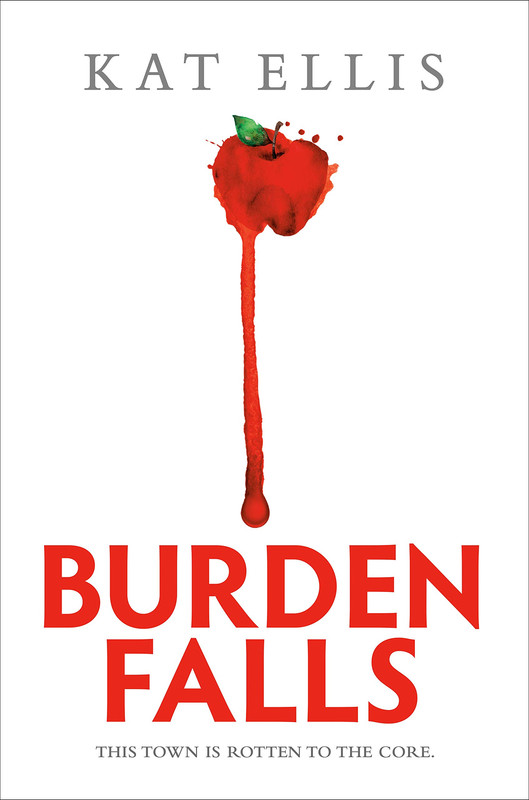 Content Warnings: strong elements of horror; in particular, there is some gore (relating to blood and eyes), death of 2 parents, gaslighting , and several deaths/dead bodies on-page.
Riverdale meets Stephen King in the terrifying new thriller from the author of Harrow Lake.
The town of Burden Falls drips with superstition, from rumors of its cursed waterfall to Dead-Eyed Sadie, the disturbing specter who haunts it. Ava Thorn grew up right beside the falls, and since a horrific accident killed her parents a year ago, she's been plagued by nightmares in which Sadie comes calling—nightmares so chilling, Ava feels as if she'll never wake up. But when someone close to Ava is brutally murdered and she's the primary suspect, she begins to wonder if the stories might be more than legends—and if the ghost haunting her dreams might be terrifyingly real. Whatever secrets Burden Falls is hiding, there's a killer on the loose . . . with a vendetta against the Thorns.
Book Links:
Goodreads: https://www.goodreads.com/book/show/57114727-burden-falls 
Amazon: https://www.amazon.com/Burden-Falls-Kat-Ellis/dp/1984814567 
Barnes and Noble: https://www.barnesandnoble.com/w/burden-falls-kat-ellis/1138373556?ean=9781984814562 
Book Depository: https://www.bookdepository.com/Burden-Falls-Kat-Ellis/9781984814562?ref=grid-view&qid=1624590489533&sr=1-2 
Indigo: https://www.chapters.indigo.ca/en-ca/books/burden-falls/9781984814562-item.html 
IndieBound: https://www.indiebound.org/book/9781984814562
This was a fun read for me. I'm guessing most people say that with romantic comedies. But I love books like this. Anything with suspense and spookiness. It's just fun.
Ava Thorn had to leave her house just one year after her parents died in a car accident. Ava was also in the accident and watched her parents die. She lives with her uncle and his wife. They didn't have money to keep the manor, so they sold it and the orchard it sits on. They are staying in town though, at a college. The town has a curse on the falls there. Ava grew up hearing about dead-eyed Sadie. It's said that Sadie's eyeless ghost appears as a warning that you're going to die. Ava swears she said Sadie the night of the accident. She's still struggling a year later, but was doing well enough to stop seeing her therapist (and to save money). But when someone Ava hates ends up dead with her eyes destroyed, things start to spiral quickly. Ava is seeing Sadie everywhere. When she's looking at people, she sees them with missing and bloody eyes. Ava uses her art as therapy and it brings her closer to someone she never thought she would talk to. Their lives are both a mess and I very much enjoyed the start of their relationship. When another person close to Ava ends up dead, the town starts to freak out that there is a serial killer. Or is it Ava? She's definitely the connection to both and she had a lot of clues to tell the police about. Ava decides to try to bait a suspect and she wants to see if she can find the killer. And to see if she's really going crazy or not.
I gave this book 4 stars. I enjoyed the story and pacing. I did figure out something very early on, but there was still a twist for me in the end. Thank you to the publisher and Netgalley for my earc.
Warnings for blood, death, talk of inappropriate relationships, fire.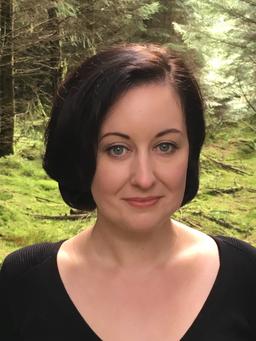 Kat Ellis is the author of young adult novels Harrow Lake, Purge, Breaker, and Blackfin Sky, as well as a novella within the Three Strikes collection titled The Twins of Blackfin. 
Kat studied English with Creative Writing at Manchester Metropolitan University, then spent several years working in local government communications and IT. 
When she is not writing, Kat can usually be found exploring ruins and cemeteries with her camera. She is an active blogger, instagrammer and tweeter, and is represented by Molly Ker Hawn at The Bent Agency.
Author Links:
Website: http://www.katelliswrites.com/ 
Twitter: https://twitter.com/el_kat 
Instagram: https://www.instagram.com/katelliswrites/ 
Goodreads: https://www.goodreads.com/author/show/7169579.Kat_Ellis 
Facebook: https://www.facebook.com/KatEllisWrites 
Follow The Tour:
August 23rd
SubtleBookish – Interview & Top 5 Reasons to Read Burden Falls
Rajiv's Reviews – Review
Mallory Books – Review, Journal Spread & Favourite Quotes
August 24th
Book-Keeping – Review
Lit Lemon Books – Review & Favourite Quotes
August 25th
Stuck in Fiction – Promo Post
Pages & Plots – Review
lousbookstuff – Review & Favourite Quotes
August 26th
Kait Plus Books – Interview
The Book Dutchesses -Review
Robinlea BookBird – Review, Playlist & Favourite Quotes
HerBookishObsession – Review & Mood Board
August 27th
Book Lover's Book Reviews – Review
Booker T's Farm – 15 Reactions While Reading Burden Falls
I Dream in Books – Review & Fanart
August 28th
Nine Bookish Lives – Review
Rae's Reading Lounge – Review & Favourite Quote
Laura's Bookish Corner – Review
August 29th
Stuck in the Stacks – Interview
Confessions of a YA Reader – Review
Avni Reads – Review
Instagram:
August 23rd
subtlebookish – Blogger's Choice
rajivsreviews – Blogger's Choice
bookdreamr – Blogger's Choice
August 24th
hollymbryan – Blogger's Choice
litlemonbooks – Blogger's Choice
August 25th
wild.legends – Book Look & Top 5 Reasons to Read Burden Falls
feliciareads11 – Blogger's Choice
lousbookstuff – Blogger's Choice
August 26th
thebookdutchesses – Blogger's Choice
simplybeccamee – Review
robinlea1218 – Blogger's Choice
herbookish._.obsession – Blogger's Choice
August 27th
bookloversbookreviews – Blogger's Choice
idreaminbooks – Blogger's Choice
August 28th
tbrandbeyond – Promo Post
ninebookishlives – Blogger's Choice
booksandpops4000 – Blogger's Choice
August 29th
thescorpion.bibliophile – Review
stuck.in.the.stacks – Blogger's Choice
avnireads – Blogger's Choice