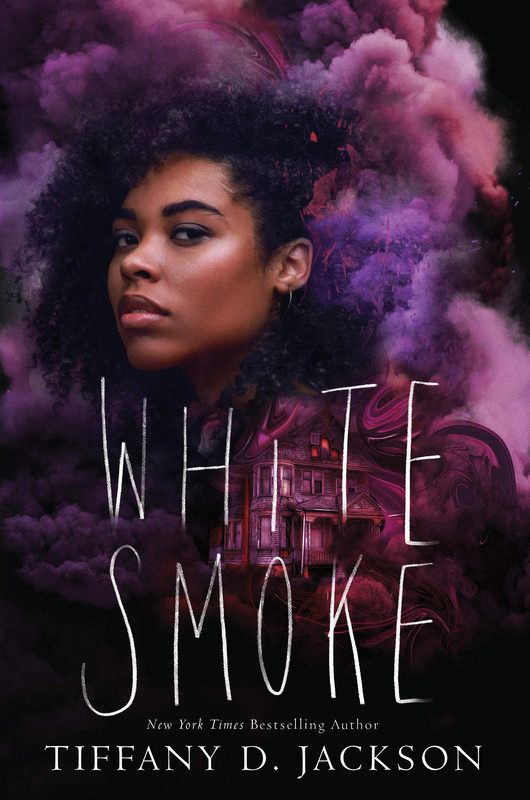 White Smoke by Tiffany D. Jackson
The Haunting of Hill House meets Get Out in this chilling YA psychological thriller and modern take on the classic haunted house story from New York Times bestselling author Tiffany D. Jackson!
Marigold is running from ghosts. The phantoms of her old life keep haunting her, but a move with her newly blended family from their small California beach town to the embattled Midwestern city of Cedarville might be the fresh start she needs. Her mom has accepted a new job with the Sterling Foundation that comes with a free house, one that Mari now has to share with her bratty ten-year-old stepsister, Piper.
The renovated picture-perfect home on Maple Street, sitting between dilapidated houses, surrounded by wary neighbors has its . . . secrets. That's only half the problem: household items vanish, doors open on their own, lights turn off, shadows walk past rooms, voices can be heard in the walls, and there's a foul smell seeping through the vents only Mari seems to notice. Worse: Piper keeps talking about a friend who wants Mari gone.
But "running from ghosts" is just a metaphor, right?
As the house closes in, Mari learns that the danger isn't limited to Maple Street. Cedarville has its secrets, too. And secrets always find their way through the cracks.
Expected publication: September 14th 2021 by Katherine Tegen Books
Tiffany Jackson continues to impress me with every book. This one was a bit different, but it was still fast paced with twists. I really can't talk too much about the book without ruining things. Mari's family just moved into a Midwest home that is part of a Grow Where You're Planted Residency. They are trying to make this small Midwest town better with programs that bring in new people. But the house is old and rundown and the neighborhood is full of empty houses. Still, the family needs change and the rent is covered. Mari has a severe phobia after having bedbugs. She started using drugs to help with her anxiety and overdosed. Her younger brother found her and she ended up being ok. Her mom doesn't trust her and her new little stepsister calls her a junkie more than once. Mari is struggling with a lot and the house that feels haunted isn't helping. Doors open and close, there are bad smells and cold spots, and things disappear. Mari is positive she's seem someone in her room and her sister has a new imaginary friend that's and old woman. Things are not right. Not just in the house, but in the whole town. Mari starts digging and finds a lot of secrets and lies.
I gave this book 5 stars. It was so hard to put down. Thank you to the publisher and Edelweiss for my review copy.
There are a lot of warnings for this one. I'm not sure if the author has them written out somewhere, but there's a lot including addiction and fire.
Have you read this yet?  Is it on your TBR?  Have you read any other books by Tiffany Jackson?